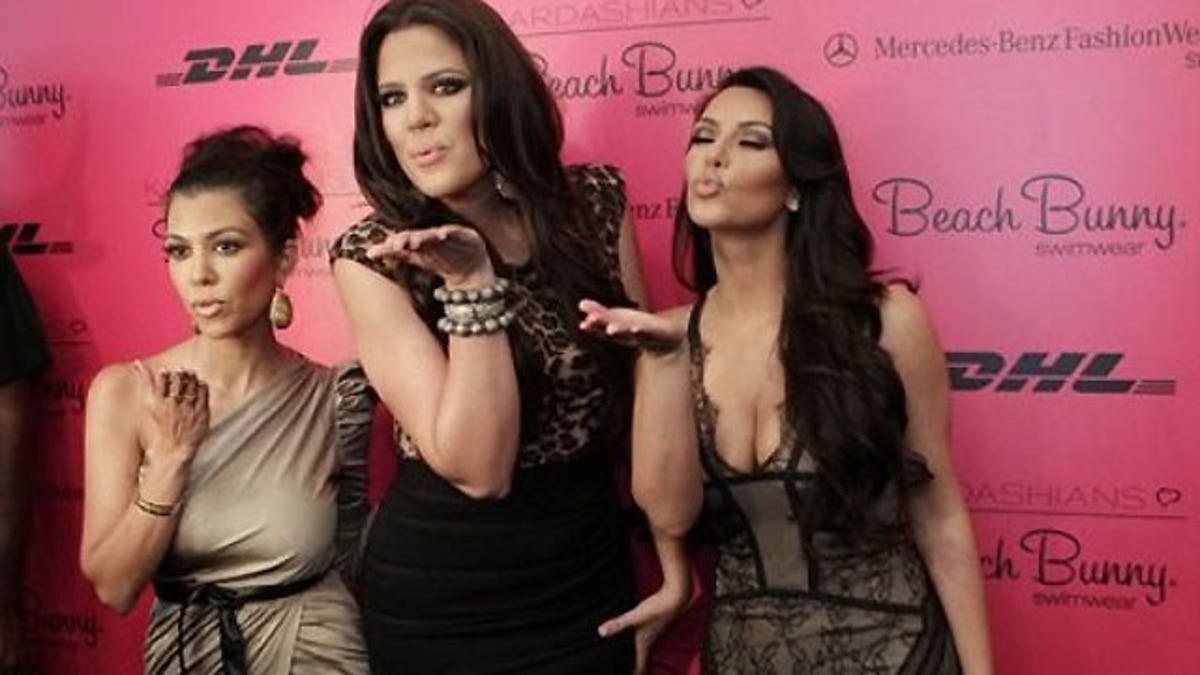 It is television's night of nights – the Emmys. Walking the red carpet at the Nokia Theater in Downtown Los Angeles is everyone from the talented cast of "Glee" to Tina Fey to Anna Paquin. But suddenly the screams from the photographers grow louder, the excited crowd milling on the outskirts perks up and reporters everywhere are scrambling for an interview… is it Brad Pitt? Will Smith? Jen Aniston? No, it is reality stars Kim Kardashian & Kris Jenner.
Everywhere you turn these days, the Kardashian family is making headlines.
And while the family earned some minor fame in the 1990s after the late Robert Kardashian represented O.J. Simpson during his wife's murder trial, these days, the Kardashians are undoubtedly the hottest family in Hollywood. The 5th season of their E! reality show "Keeping Up With the Kardashian's" averaged nearly 4.7 million total viewers, 14 percent more than last season and was the series's highest-rated and most-watched season opener in history. It was also the network's second most-watched telecast ever, only losing out to their last season finale.
But the reality show is only a small part of the ever-expanding Kardashian empire – sisters Khloe and Kourtney scored their own Miami-based spin-off series, the three older sisters are getting ready to release their own autobiography "Kardashian Konfidential," they earn big bucks endorsing a multitude of products from the weight loss pill QuickTrim to Famous Cupcakes. The recently released a sunless tanner called Kardashian Glamour, have their very own Bebe clothing collection, shoe society ShoeDazzle and just announced that their own line K-Dash will be sold on QVC this month – this is all in addition to being flown around the world to appear at parties and events. Furthermore, the sisters swooped in for a top ten spot on People's 25 Most Intriguing People of 2009.
Kim, the most famous of her siblings given her past relationship with star footballer Reggie Bush and infamous sex tape with rapper Ray J, is currently working as the producer of an E! reality series "The Spin Crowd," was a contestant on "Dancing With the Stars" made guest appearances on "America's Next Top Model" as well as "CSI:NY," released her own workout DVD, and a self-titled fragrance. She was recently immortalized into a wax figure at Madame Tussuads alongside the A-list likes of Madonna, Jennifer Aniston, Kate Moss and Drew Barrymore.
But one question remains -- why are the Kardashians famous?
"We've entered an era where 'fame' has far less to do with genuine talent and love for one's craft and far more to do with tabloid scandal and reality television antics," Alec Shankman , a former reality show talent agent and founder of online casting service "GotCast" told Pop Tarts. "The Kardashians arguably 'launched' much in part due to Kim's one-time BFF status with Paris Hilton, and then her subsequent sex tape. Soon thereafter, the family is outselling box office movie stars on the new stands. Entry into the once glamorous celebrity in-crowd is now often as easy as creating a viral moment of tabloid gossip."
But what is unique about Kim Kardashian in particular is that, although her initial foray into the public eye stemmed from hanging out with notorious party girl Paris Hilton, having a sex tape fall into the hands of adult distribution company Vivid Entertainment, and posing naked for Playboy, she is certainly no Snooki or Heidi Montag. The 29-year-old seems to have been able to turn her reality stardom into an A-list affair.
Earlier this year, Kim was featured (nude and un-airbrushed) in high-end fashion magazine Harper's Bazaar, she is on the latest cover of beauty magazine Allure, and was honored with a spot in People Magazine's "Most Beautiful" list this year.
"The Kardashian ladies are ultra media savvy, we have seen many heiresses get famous but this is the first family to do so, which is why the media seems to be so fascinated," explained AP Entertainment/Pop Culture Expert, Natalie Rotman. "There is something for everyone with this group. They are like a 'Sex In The City' reality show. There is the pretty one that dates around, the loud one that married a NBA champion, and the smart one – with the not so smart baby daddy."
And the Kardashian's don't just tape their show, and then let the fame and fortune come to them – apparently they know how to hustle.
"As a bunch, the Kardashians are aggressive – if mom/manager Kris needs something for a gift bag, she'll ask for 80 Hermes scarves. If they're going somewhere, they don't just call 'the paparazzi,' they have preferred photographers who capture staged everything," reality show producer/Hollywood publicist, Mikey Glazer, said. "Plus the Kardashians have commercial relevance because it's not one hot girl, but three eye-catching girls (in different ways). The complex sibling relationship is more relatable than Paris Hilton to Nicole Richie. It's the same reason that the original "Idol" judge trio sizzled – tense chemistry is always between the three."

Even "CSI: Miami" starlet Eva LaRue feels those like the Kardashian's have the ability to build longer-lasting careers than her very talented acting counterparts.
"As actors, we don't have shows that are going to be on the air forever, so you have to wisely brand yourself," LaRue told us. "But some of the reality show stars are better at branding themselves than television stars, like the Kardashians, so maybe they'll have more longevity."
Aside from Kim's sex tape and Khloe's 2007 DUI, very little heat seems to be generated in the media about the Kardashian crew – and it is not necessarily because they don't have any dirty laundry to air.
"It's strange how you never see a bad word written about them," a family insider said. "Their mom Kris (who also happens to be Kim's manager) knows just how to make friends with the right reporters and get the right things in the press, and keep the rest out."
So in glorifying this family – famous for nothing in particular – is society setting a bad example to children that they don't need to necessarily aspire to having brains or a particular skill in order to really do well in life?
"A recent survey of school children revealed that many teens today would rather be famous than smart, they'd rather be a celebrity assistant than go to Harvard. Although fascination with celebrities and fame is nothing new, never before has it seemed so attainable for so many," Melissa Henson, Director of Communications and Public Education at the Parents Television Council said. "Most modern celebrities, from the cast of 'Jersey Shore' to the Kardashians, achieved their fame or notoriety not through any real merit or talent, but by having sex tapes made public, or by acting like entitled, spoiled brats on some reality TV show. Is this really the example we want our children to follow?"

But according to one of Hollywood's leading reality show casting agents, Doron Ofir, the appeal of the Kardashian family is that we can all see a little of ourselves among their many trials and tribulations.
"Reality television gives socialites like Paris and Kim the chance to be icons, it takes away the veil of prestige and highlights the drama and idiosyncrasies that everybody has in their lives," Ofir said. "True artists are famous for no reason, I challenge anyone to tell me who won the Nobel Peace Prize the last five years. But someone like Kim Kardashian, will be remembered."