Justin Timberlake: My son 'will never play football'
NEWYou can now listen to Fox News articles!
Justin Timberlake, who is set to headline the Super Bowl LII halftime show, said Thursday that he will not allow his 2-year-old son play football.
Timberlake was asked at a news conference whether he would support his son Silas if he wanted to play in the NFL, according to ESPN. Timberlake responded: "Uh, he will never play football. No, no."
"I mean, yeah, it's kind of like that thing where my main objective is that he become a great person. And if he wants to get into the arts or sports, then yeah, I would fully support that," Timberlake said. "I think I can hopefully offer him some advice on what to do and what not to do, so yeah, but right now we're working on our manners. That's a big deal in our house right now. It's like, one thing at a time."
The pop star's remarks come as the spotlight over the NFL's concussion policies shines ever brighter.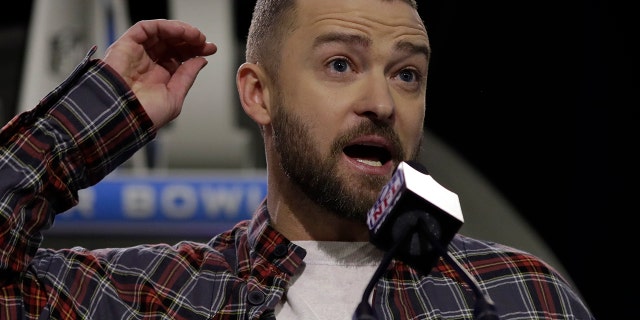 Last week, the NFL released a report showing that players suffered more concussions in 2017 than in the previous year. The league noted a "rise in self-reporting of symptoms."
The report, conducted by a third party, found that in 2017 there were 281 reported concussions compared to 243 the year before, a 13.5 percent increase overall in both preseason and regular season games.
Timberlake also told reporters that there would be no special guests with him – putting to bed the notion of an 'N Sync reunion or a special performance with Janet Jackson.
Timberlake is returning to the halftime show 14 years after the "wardrobe malfunction" with Jackson caused a national controversy. He was not asked about the incident during the press availability.
The Associated Press contributed to this report.