Jury to rule if Ed Sheeran ripped off Marvin Gaye in hit song 'Thinking Out Loud'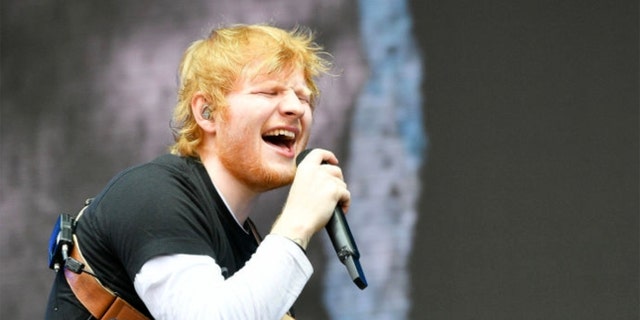 A jury will determine if singer-songwriter Ed Sheeran did, in fact, rip off Marvin Gaye in his hit song "Thinking Out Loud" released in 2014.
District Judge Louis Stanton rejected Sheeran's request to dismiss a lawsuit that accuses the performer of copying certain aspects of Gaye's song "Let's Get It On" in "Thinking Out Loud," The Guardian reported.
CLICK HERE TO GET THE FOX NEWS APP
In his decision, which was made public Thursday, Stanton noted there were "substantial similarities between several of the two works' musical elements," according to the outlet.
The lawsuit was brought against Sheeran and others by the estate and heirs of Ed Townsend, who co-wrote the Grammy-award winning song with Gaye.
Sheeran, co-writer Amy Padge, Sony/ATV Music Publishing and the Atlantic record label are all listed as defendants in the lawsuit.
"Thinking Out Loud" features "somber, melancholic tones, addressing long-lasting romantic love," Sheeran's defense has reportedly argued. "Let's Get It On," they said, is a "sexual anthem."
Still, Stanton has said the tunes could be argued to have a similar "aesthetic appeal."
ED SHEERAN, TAYLOR SWIFT ARE TOP MUSIC EARNERS OF 2018
In a separate lawsuit, Structured Asset Sales – which owns a part of Townsend's estate – has also accused Sheeran of copying "Let's Get It On" and is suing for $100 million, according to The Guardian.
The 27-year-old singer has denied copying the song, which was a part of his 2014 album "X."
Sheeran has previously been accused of plagiarism for his songs "Photograph" and "Shape of You."
The artist broke a record for ticket sales last year, raking in more than $432 million – nearly $90 million more than his second place competitor Taylor Swift – during his 2018 world tour, according to Pollstar. He sold roughly 4.9 million tickets over the course of those 12 months.