Julia Roberts reflects on fame: I was a 'selfish little brat'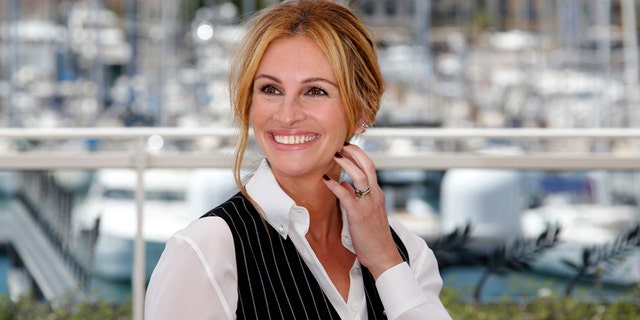 Julia Roberts is well-aware of her reputation as being less-than-sweet during her peak as America's sweetheart.
"I was my priority, a selfish little brat running around making films," Roberts, 49, told Harper's Bazaar UK.
Roberts was previously rumored to be so difficult to work with that she earned the nickname "Tinkerhell" due to her behavior on the set of 1991's "Hook," in which Premiere magazine described her demeanor as "sometimes somber, sometimes at the near edge of hysteria."
She admitted that it wasn't until she met husband Danny Moder — after a string of failed romances including a broken engagement to Kiefer Sutherland, a painful split from longtime boyfriend Benjamin Bratt in 2001 and a divorce from Lyle Lovett — that she calmed down and grew up.
"It was meeting Danny … finding my person," she said. "When I think about what makes my life my life, and makes sense and just shine inside of me, it's him. Everything has come from that for me."
Roberts confessed that she still gets nervous collaborating with Moder, a cameraman who worked on several of her projects, including "The Mexican," "Mona Lisa Smile" and "The Normal Heart," but that his presence inspires her to do her absolute best work in front of the lens.
"There's comfort there, but also terror, which is a good combination," she said. "Terror because the person I want to impress most is looking right at me."
In terms of work, Roberts, who's mom to 12-year-old twins Phinnaeus and Hazel and 10-year-old son Henry, admitted that the wage gap isn't something she gets worked up about, in part because parenting keeps her calm.
"I put down my stone in a path that will keep going, and I'm proud of that, but I don't feel it's my place to bang the drum at this time," she told the magazine of the pay disparity between genders, a cause about which fellow Oscar winners Patricia Arquette and Emma Stone have been particularly vocal.
"I just don't get all crazy over things," Roberts added. "I have a maternal approach: 'OK, everybody settle down, we'll figure this out.'"
The actress, who has been quite selective about her projects in the last few years, noted that her time away from the spotlight has been voluntary — and that the massive successes she's had already may color her view of the typical Hollywood struggle and make her more willing to pass the torch to the next America's sweetheart.
"Deep down, we all know you can't stand on the top point of a pinnacle on your tiptoes, and not at some point lose your balance, or get tired, or say, 'OK somebody else take over, I have to go to the bathroom,'" she said. "There are great things I've accomplished and I'd be happy to accomplish more, of course, to impress my children and my husband. But you know what? I've been spoiled already."
This article originally appeared in the New York Post.