Judas Priest singer Rob Halford talks surviving controversy: 'Common sense prevails'
At age 66, Rob Halford is still hell-bent on leather.
The British frontman and his bandmates of iconic heavy metal band Judas Priest are back with their 18th studio album, titled "Firepower," and they couldn't be more thrilled to be reunited with fans on tour.
"I'm very eager and excited to be spreading the gospel of the Priest one more time," Halford told Fox News. "This is the embodiment really of everything that we live and breathe for in the heavy metal community. To have Judas Priest together? It's a real adventure and we always feel excited when it's time to create a new record."
However, the ironclad group is offering a different message for diehard followers and curious listeners alike. Rather than "Breaking the Law," their new single, "Sea of Red" honors the lives that were lost in World War I.
"It really looks into the spirit of love conquering everything," explained Halford. "That may not sound very heavy metal, but it embodies that strong passion I believe exists in heavy metal… It commemorates the ultimate sacrifice of the people that were there.
"This overpowering relief of love conquering any kind of difficulty and hardship in life. That love is forever, even with people that we lost in the physical world. So I'm speaking a lot from the heart… The lyrics take you on a tremendous journey. It's a great song in the elements of a classic heavy metal ballad."
The rocker insisted Judas Priest continues to be thankful for the support they received from fans. And while Judas Priest was once targeted by the Parents Music Resource Center (PMRC) for their lyrics, listing them in 1985's "Filthy 15" of artists that should be banned, the group has persevered over the years and their followers remain loyal.
"I've lived long enough to make sense of all of this and everything we've been through over the decades," said Halford. "Now, some of those parents are probably bringing their kids to shows. And it goes to show you that, thankfully, common sense prevails. We're a rock 'n' roll band that plays heavy metal music. Our intent is to give you a great night out and offer the best time that we can with our music."
New song directions aren't the only difference audiences will notice. In February, The Guardian reported lead guitarist Glenn Tipton was stepping back from performing after being diagnosed with Parkinson's disease.
The 70-year-old has lived with the early stages of the degenerative disorder for a decade and the disease's progression has left him unable to play the group's more complex material.
"He's doing as well as anybody that's been battling and has been so strong in fighting all of the challenges that Parkinson's brings into your life," explained Halford. "For years, Glenn has been writing, recording and touring the world, not letting Parkinson's get in his way as a musician. And it's only been days that we had to make the very difficult choice of him stepping away from the world tour.
"Parkinson's is a worldwide condition and I think he's sending a signal of resilience, optimism and hope. You have to try to be as alive as you can for day to day of living with the condition… We're in this together."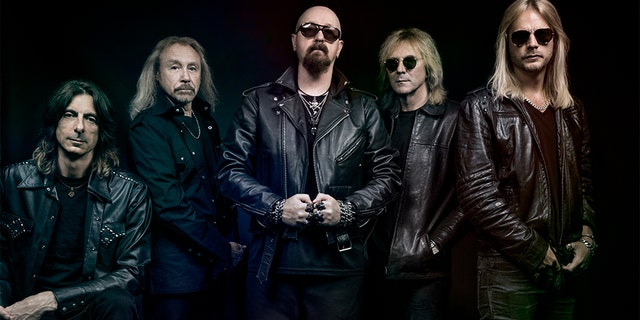 Halford, for his part, says he takes songwriting duties very seriously, even if the recipe for a hit has proven to be "paper, pencil and a good Thesaurus."
"I still think we have a lot of intent behind our music in terms of the messages that we throw out," he said. "We're not a band that takes any kind of political stance. That's not what we're about as Priest. But we're observers of what's going on around us in the world.
"When we talk about 'Firepower,' we're talking about the fire and power of heavy metal to prevail and endure difficulties. 'Children of the Sun,' is, to some extent, about climate change and the ecosystem… We want to deliver a message to the people without being too much of a teacher."
Judas Priest may go as far back as 1969 and have easily invented the look of its genre, churning head-to-toe leather, but they're still waiting to be inducted into the Rock & Roll Hall of Fame. In late 2017, Halford announced Judas Priest didn't receive enough votes to make the cut.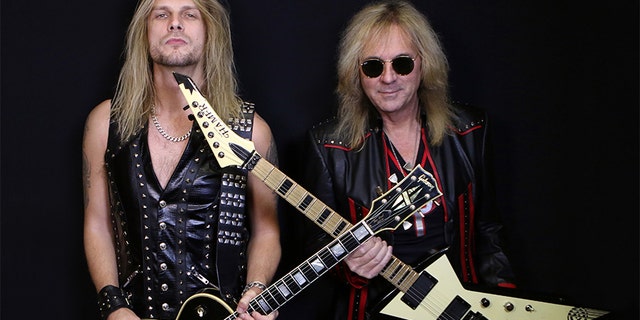 "It was a thrill to be nominated," said Halford. "We appreciate and understand what it represents to go into that great institution… It sends a wonderful signal to people. And the fact that we didn't make it? It was a bit disappointing. And we feel heavy metal should be represented more in the Hall of Fame. But I think we will make it there eventually. We will. Next time around, fingers crossed, we'll make it to the hallowed halls and they'll find a spot on the shelf to put Judas Priest."
And while Halford is gearing up to hit the road again, he's looking just as forward to ultimately returning to the same place he has called home since 1981.
"Initially, Phoenix was just a vacation spot for me," said Halford. "I love heading to the desert. I don't know what it is. I can't describe it. But it just connects with me… And by the time we reached the early '80s, after touring, I wanted to put down some roots.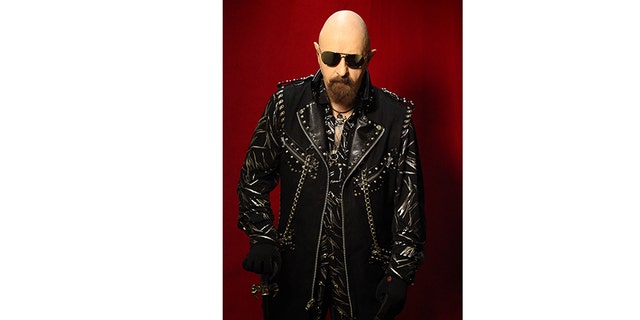 "It can be a pretty extreme place. Phoenix in the summer? That's a heavy metal challenge… It gets blazing hot in the summer and it's quite a testament of endurance… But the whole business of living in the desert is a great joy for me."
When in Phoenix, Halford prefers escaping in the desert and mountains before returning to his residence where he asks Alexa to play classical music or the blues.
And as for his ever-growing leather collection? Halford insisted Judas Priest's youngest member, 38-year-old Richie Faulkner, shouldn't expect an inheritance anytime soon.
"Firstly, I'm a much bigger guy than Richie," he said laughing. "And secondly, they have to be decontaminated at the end of every tour. So I don't think he would like my stuff very much… And I'll be doing my usual this year. I'll be having more costumes than Cher."