Jim Parsons Excited About Second Emmy Nod, "Bummed" About Big Bang's Snub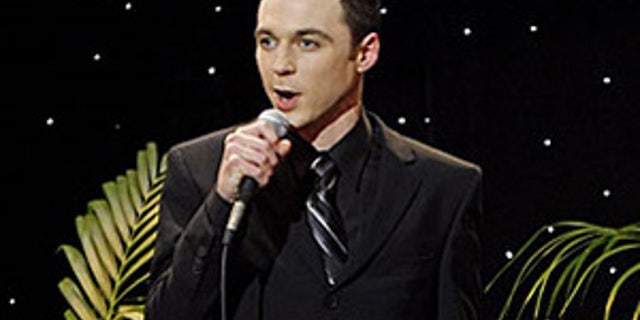 Make that a double scoop!

After nabbing his second-straight Emmy nomination for The Big Bang Theory, Jim Parsons will celebrate the same way he did last year — by getting ice cream.

Freshman series Glee, Modern Family dominate Emmy nominations

"I know that sounds lame, but I don't eat that much ice cream, and I think I should eat some. It's a good day for ice cream. I'm so excited," he tells TVGuide.com. "My overall favorite flavor is vanilla — I'm so boring — but that's not what I always get. Frequently, I will go and get those sickly sweet combos, like a crème brulee or butter pecan, so I may go for that."

What's bittersweet, though, is the fact that the CBS sitcom was overlooked in the comedy series race again, Parsons says. "I am bummed. There's always next year," he says. "We have such a strong group of people — not just the cast, but the writers — and the meat and potatoes of the issue is that the work being done is solid and we get to go back and do it. But it sure would be fun, hopefully at some point, to celebrate the Emmys together."

Parsons — who's up against two-time champ Alec Baldwin (30 Rock), Steve Carell (The Office), Larry David (Curb Your Enthusiasm), Tony Shalhoub (Monk) and Matthew Morrison (Glee) — hopes to be less nervous at the ceremony the second time around.

And if he wins, don't expect him to do what his character, Sheldon Cooper, did when he had to accept an award last season.

Emmys: Did your favorites make the cut?

"I don't think I will drop my pants!" Parsons says, adding that he submitted that episode ("The Pants Alternative") as his Emmy tape. "That was a fun episode, but the biggest reason I picked it is because Sheldon has one-on-one scenes with almost every cast member, and I thought that was a really well-rounded episode. Trying to decide one to submit — you can only go with your gut. If only there was a science to it. I do drop my pants, so maybe that helps!"
View original Jim Parsons Excited About Second Emmy Nod, "Bummed" About Big Bang's Snub at TVGuide.com
Other Links From TVGuide.com