Jessie James Decker stands with national anthem in NFL kneeling controversy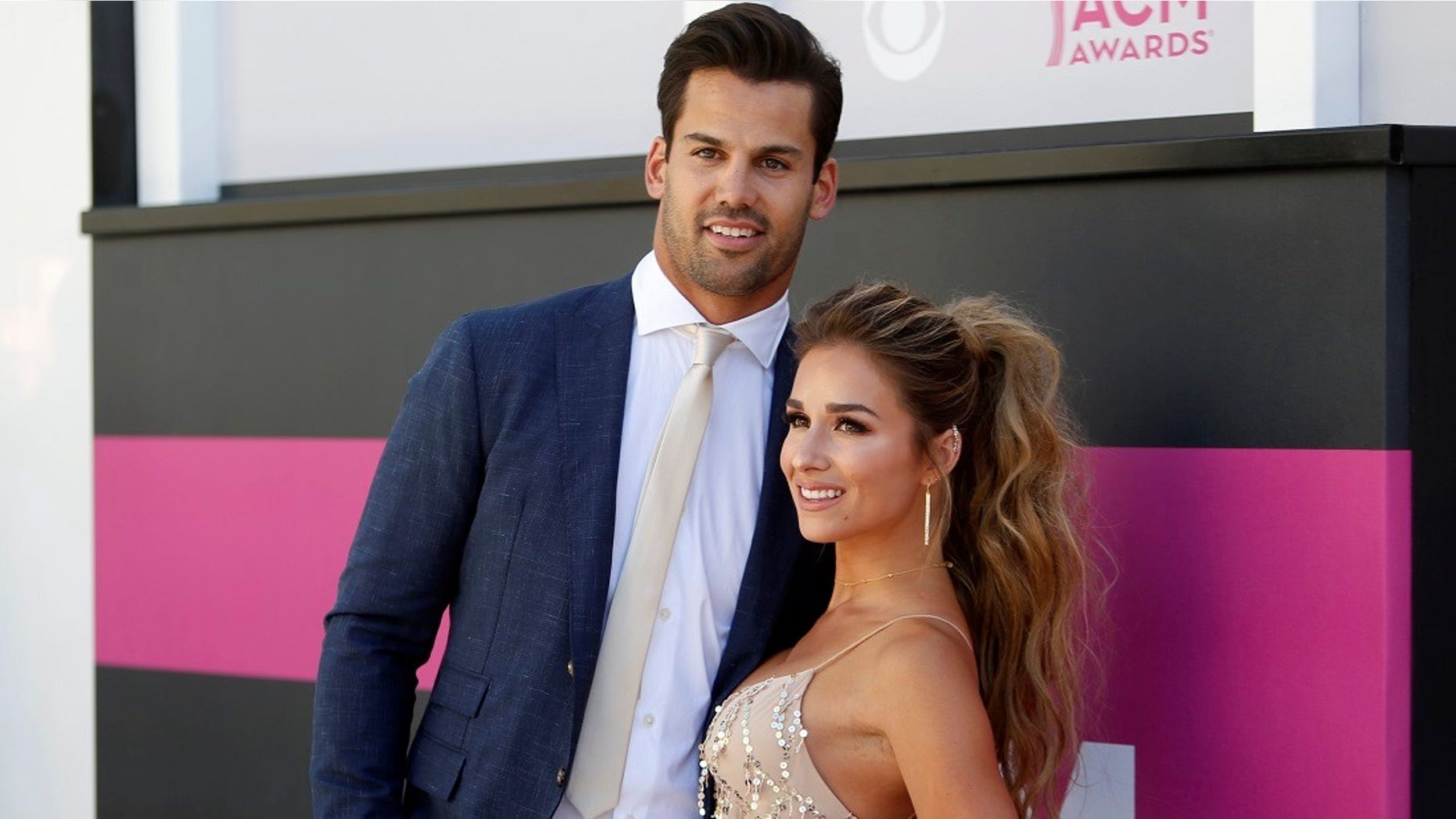 Jessie James Decker is standing up for the national anthem.
The singer wrote a lengthy message on Instagram supporting the national anthem and what it represents for the United States on Monday. Decker, who is married to Tennessee Titans player Eric Decker, posted a video of her singing "The Star-Spangled Banner" at a football game, saying it was one of her favorite songs to perform.
"I think about my dad, my uncles, my cousins, both grandfathers who fought in the Vietnam war. I think about how my grandfather paw paw Tim would ask me to sing this song for him every time I saw him and how he would make me turn the other way to sing it so he could just weep and cry as hard as he wanted because it meant so much to him," the singer wrote along with the clip.
Decker goes on to say she thinks of the troops deployed worldwide, including in the Middle East, while she belts out the anthem and that she's paying respects to those sacrificing their lives.
"I think about all of the men crying because they missed their wives so much, or the man telling me he hadn't seen his baby girl yet since she was born," she added.
"When I sing this song I think about them. This song is about them. It's not about me. That's what I think about every time I sing it," she said.
"I love our country so much. And we should all love and respect each other because this is the greatest country in the world. I see the love. I see the unity in all walks of life on a daily basis and It makes me so proud to be an American..... so In the words of Forrest Gump. That's all I have to say about that," she said.
CELEBRITIES REACT TO TRUMP, NFL 'TAKE A KNEE' NATIONAL ANTHEM CONTROVERSY
Many fans applauded Decker's firm stance with the national anthem, a controversial topic that was the center of NFL Sunday after President Trump blasted the league's athletes who took a knee during the song.
One fan asked Decker why her husband remained in the locker room with the Titans during the national anthem. The singer explained that her husband was unaware of the decision.
"Sadly he wasn't made aware that a decision had [been] made for him until he came out and it was over," she replied, according to People.
Fans praised her for the Instagram post.
"You're amazing!!!! The flag is not about who the president is it is about our country and the soldiers who fight for it everyday. Thank you for this!!!!!" Instagram user Theresa_feehan commented.
"Very much appreciated and beautifully written, thank you for speaking up and educating!" user srinajp_ said.
Hayley_jorstad commented: "Beautifully said! I don't know why the NFL thinks that not coming out for the National Anthem is showing unity!"
"I'm SO glad to see this post because I told anyone talking smack that @edeck87 definitely wouldn't support this as his wife's family is military AND she sings the National Anthem. People can do as they wish its just sad to see it happening...," user casey.reinhardt said.
Several people also criticized the singer's stance on the protest and threatened to unfollow her on Instagram for the post.
More than 200 NFL players protested during the national anthem by sitting, kneeling and locking arms after Trump called for all players who took a knee during the song to be fired. New York Jets, a team owned by a Trump appointee, joined in on the protest by locking arms during the anthem at MetLife Stadium, ESPN reported.