Jennifer Lopez confirms relationship with Casper Smart, but denies wedding rumors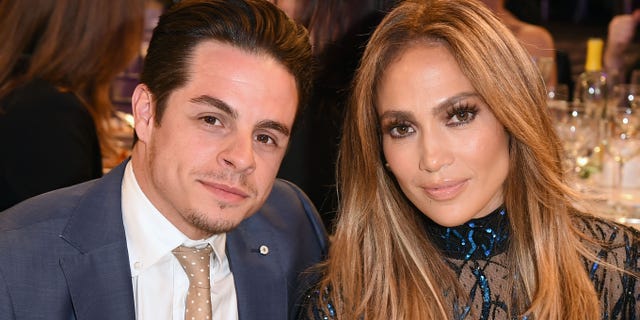 Jennifer Lopez has confirmed her worst kept secret: she and Casper Smart are definitely dating again.
The 46-year-old singer tried to keep it on the down-low during an appearance on the "The Ellen DeGeneres Show" airing Tuesday — but host Ellen DeGeneres would not let her.
"Beau was working down there (in Miami for New Year's)" Lopez told DeGeneres, who was quick to interrupt and ask the singer who was "Beau" — Smart's first name.
"Oh God. Come on. Why do you do this to me?" Lopez told DeGeneres, who brought up that her guest always skirts the issue. "You do this to me every time! I don't lie to you. I give you the most accurate answer that I can give you."
Lopez then emphatically said she is with Smart, as has been greatly speculated since they broke up two years ago and were then spotted all over the world together.
"We were down in Miami together for New Year's," she said. "He was working. I didn't have to work – I had literally two days off. We were hanging out."
She then assured DeGeneres that she's not hiding any big plans — especially after she gifted Smart, 28, a tuxedo for Christmas.
"I'm opening (my residency) in Vegas, and I was like, 'You can wear this on opening night so you look nice,'" she explained.
"Or for the wedding," the host quipped. "When is it? Do you know?"
"No, no wedding," Lopez replied. "There's no wedding."
Despite no plans to head down the aisle anytime soon, Lopez told NBC's Natalie Morales that marriage is still in the cards.
"I love getting married," she said. "I really want to get married in a church with a big dress."
In the meantime, though, Lopez will focus on the many projects she has going on — and being a mother to her 7-year-old twins Max and Emme.
"They just made my life better," she revealed during a "Today Show" interview that aired Tuesday. "I think they just change your perspective on the whole entire world, you know, and how you look at life."
Lopez continued: "That was a big epiphany for me having children. They just made everything better. They helped me grow as a human being."
Like us on Facebook
Follow us on Twitter & Instagram