Jennifer Lawrence 'splits' dress: Worst-dressed actress at SAG Awards?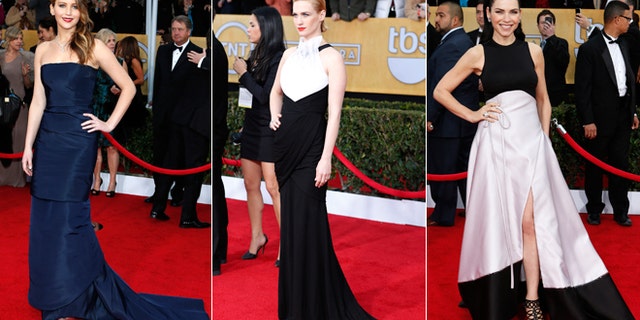 Jennifer Lawrence is quickly becoming the only reason to tune in to the latest awards show. The 22-year-old actress — who made headlines at the Golden Globes for gloating, "I beat Meryl" — seemed to split her dress while accepting the prize for Outstanding Performance by a Female Actor in a Leading Role at Sunday night's SAG Awards.
But according to E! News, while it was a wardrobe malfunction, it wasn't exactly a rip. Lawrence's Christian Dior gown was gussied up to hide the lining (which was visible in the original design), but something went awry when she went up to accept her award.
SODAHEAD SLIDESHOW: See the worst-dressed actresses at the SAG Awards.
Malfunction notwithstanding, J-Law looked great.
But what about January Jones? The "Mad" woman looked like she came from another planet. Julie Bowen seemed to be taking inspiration from "Fifty Shades of Grey" in a leather look — and was Julianna Margulies doing that Angelina Jolie leg thing?
PHOTOS: See the latest celebrity pictures to hit the Internet.
Who do you think was the worst-dressed actress at the SAG Awards?