Jemele Hill: 'I deserve a suspension' from ESPN for controversial tweets
ESPN anchor Jemele Hill said on Saturday she "deserved a suspension" from the sports network after she called for fans to boycott the NFL and called President Trump a "white supremacist" on Twitter, two days before she is set to return to work.
Hill told TMZ Sports in an impromptu interview at Los Angeles International Airport that she put "ESPN in a bad spot."
"ESPN acted what they felt was right. I don't have any argument," Hill told TMZ Sports. "After my Donald Trump tweets, I deserved a suspension."
She said, "I violated the policy. Going forward we'll be in a good, healthy place."
Hill is set to return to work after she was suspended for two weeks when she violated the network's social media guidelines for the second time, ESPN announced on Oct. 9.
"Jemele Hill has been suspended for two weeks for a second violation of our social media guidelines. She previously acknowledged letting her colleagues and company down with an impulsive tweet. In the aftermath, all employees were reminded of how much individual tweets may reflect negatively on ESPN and that such action would have consequences. Hence this decision," a network spokesman said in a statement.
"ESPN acted what they felt was right. I don't have any argument."
Hill bashed Trump on Twitter on Sept. 11, calling him a "white supremacist who has surrounded himself with other white supremacists. She continued her rant by saying Trump was "the most ignorant, offensive president of [her] lifetime," a "bigot" and "unqualified and unfit to be president."
She added, "If he were not white, he never would have been elected."
Her tweets caught the attention of Trump and White House Press Secretary Sarah Sanders, who said the rhetoric was a "fireable offense" and demanded an apology. Hill issued an apology and said her tweets were her "personable beliefs" that "painted ESPN in an unfair light."
But the outspoken liberal anchor continued her controversial comments on the social media site on Oct. 8 when she said Dallas Cowboys owner Jerry Jones "created a problem for his players, specifically the black ones" in the NFL kneeling controversy. Jones said the NFL and the Cowboys were "going to stand up for the flag" after Vice President Mike Pence left an Indianapolis Colts game when several players kneeled during the national anthem.
"If they don't kneel, some will see them as sellouts," Hill said.
"By drawing a line in the sand, Jerry put his players under more scrutiny and threw them under the bus... If the rationale behind JJ's stance is keeping the fan base happy, make him see that he is underestimated how all of his fan base feels," Hill wrote on Twitter, adding that "paying customers" should "boycott" Jones' advertisers.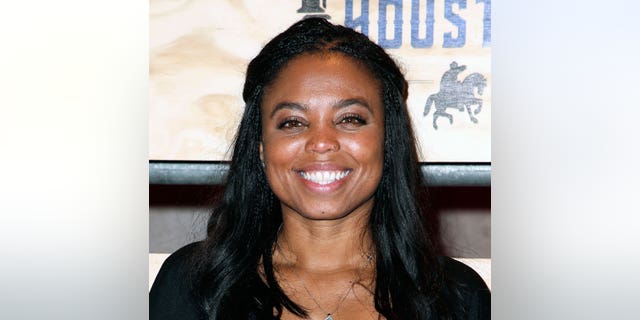 Hill told TMZ Sports on Saturday that the time off was "reflective" and she was "grateful" for her supporters, including Al Sharpton and Rosie O'Donnell, who based the network for suspending her.
"I'm thankful for them but I'm happy to be back," Hill said.
"Me and ESPN are fine…We are fine. We are in a good place. I'm happy to be back on the network," she added.
As for Twitter, she said she will be back on the social media site.