Jason Aldean cancels weekend concerts 'out of respect' for victims
Country music star Jason Aldean, who was performing on stage in Las Vegas, Nev., when a gunman began shooting at the crowd of 22,000, has canceled his scheduled shows this week "out of respect for the victims."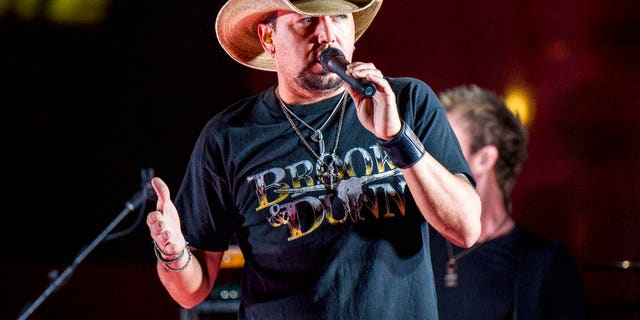 Aldean was on stage Sunday night at the Route 91 Harvest Festival on the Las Vegas Strip when gunman Stephen Paddock began shooting at those enjoying the country concert from the 32nd floor of the nearby Mandalay Bay Resort and Casino.
Aldean was captured on video quickly running off stage in the terrifying moment concertgoers realized the situation.
In a statement Tuesday evening, the star said that because of what happened in Las Vegas, his team has decided to cancel three shows in California that were scheduled for this upcoming weekend.
"As a result of what happened in Las Vegas this week, we have decided to cancel this coming weekend's show. I feel like out of respect for the victims, their families and our fans, it is the right thing to do. It has been an emotional time for everyone involved this week, so we plan to take some time to mourn the ones we have lost and be close with our family and friends," Aldean's tweet read.
"Our plan is to resume the tour the following week in Tulsa, Oklahoma. Our first time back onstage will be a very tough and emotional thing for us, but we will all get through it together and honor the people we lost by doing the only thing we know how to do – play our songs for them. I hope everyone understands why we can't play this weekend and I'm sorry if anyone is disappointed."
The statement concluded, "I want to say thank you for the outpouring of love from my friends and fans we have received over the last couple days. You guys have no idea how much you have helped get us through this tough time. Thank You and God Bless. JA."
Earlier Tuesday, Aldean, an expecting father of two, wrote in an Instagram post that "Something has changed in this country and in this world lately that is scary to see. This world is becoming the kind of place i am afraid to raise my children in." He added that his "heart aches for the Victims and their families of this Senseless act."
Aldean's website states that refunds are available for this weekend's canceled California shows.