Janet Jackson pays emotional tribute to women and all victims of abuse in Billboard Music Awards
Janet Jackson gave an emotional speech Sunday night in support of women who have been abused and the #MeToo movement during the Billboard Music Awards, where she received the Icon Award.
Jackson, who became the first black woman to be honored with this award, took the stage to perform a medley of her hits, including "Nasty" and "If." She then launched into her impassioned speech as the crowd chanted "Janet! Janet!"
"I'm deeply humbled and grateful for this award. I believe that for all the challenges, all of our challenges, we live a great moment in history," Jackson said. "It's a moment that at long last women have made it clear that we will not be controlled, manipulated or abused."
She continued, "I stand with those women and with those men equally outraged by discrimination, who support us in heart and mind."
Jackson included a message on faith healing divisions, and thanked her fans and God for giving her the energy to become an artist.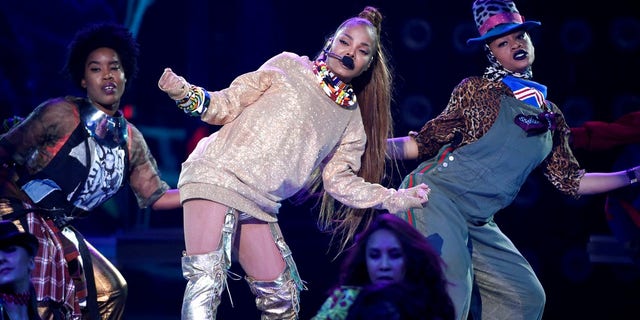 "I thank God for giving me the precious energy that lets me live my life as an artist who every day seeks to expand my capacity to love," the 52-year-old singer said.
Jackson has received 18 BBMA nominations throughout the years, winning 10 awards. She's the seventh artist to win the Icon Award, joining Neil Diamond, Prince, Jennifer Lopez, Celine Dion and Cher. Bruno Mars introduced Jackson on stage as a "powerful woman" and described her family as "music royalty and the first family of entertainment."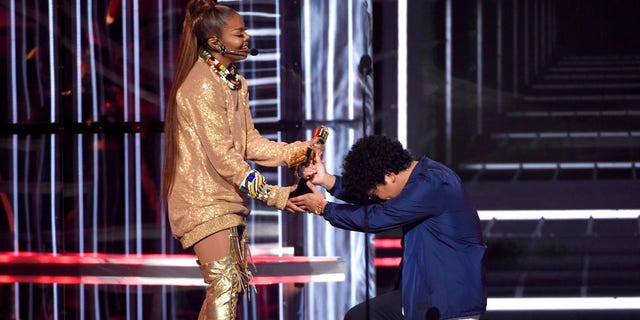 Jackson is set to kick off her State of the World Tour on July 11 in Austin. She will also perform at New Orleans' ESSENCE Festival on July 8. She postponed her Unbreakable Tour in 2017 due to her pregnancy.