Is New Meryl Streep Movie 'The Iron Lady' Fair to Margaret Thatcher?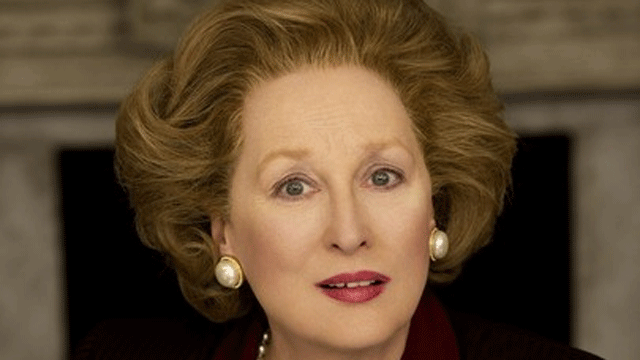 Margaret Thatcher ran Downing Street with an iron fist from 1979 to 1990. Vilified by her liberal opponents, Great Britain's first and only female prime minister was the patron saint of the conservative movement.
But Hollywood's new film about the iconic leader – "The Iron Lady," starring Meryl Streep – has viewers arguing about more than just politics. Some people who were close to Thatcher say the film should is too focused on Thatcher's recent decline.
Thatcher suffered series of strokes over a decade ago and has not made a public appearance in some time. She did not attend the Royal Wedding last spring, and her memory loss has reportedly progressed to such an extent that the small group of conservatives who maintained her office and continued to champion her beliefs decided to disband earlier this year.
Many of them say they are not happy with the new movie.
"She was never, in my experience, the half-hysterical, over-emotional, over-acting woman portrayed by Meryl Streep," Norman Tebbit, a member of Thatcher's Cabinet and former head of the Conservative Party wrote in the Telegraph of London.
Lord Bell, one of Thatcher's key advisers, told the paper that the entire film was a "non-event" and that he had no interest in seeing it, because its only purpose was to "make some money for Streep and whoever wrote it."
Thatcher's former colleagues aren't the only ones irate over Streep's performance. Her biographer John Campbell dismissed "The Iron Lady" as being riddled with "poetic license," saying the Hollywood spin "simplifies and dramatizes her as a great individual, fighting against these things as if it were all on her own." Campbell said the movie doesn't give enough credit to the men who worked with Thatcher.
Streep for her part stresses that "The Iron Lady" is not a biopic, but a "subjective look at certain challenges an old lady remembers based on the challenges she faces in her daily life."
"My view of her was unschooled, but there were many surprises along the way as I did research," Streep told FoxNews.com at the film's New York premiere. "For instance, to find out that she didn't even have a cook flabbergasted me. How do you have that big job running the United Kingdom for 11 and a half years and not have someone cook you dinner?"
The film's director, Phyllida Lloyd, told FoxNews.com that she understood how touchy the subject matter was, and she offered Thatcher and her children the opportunity to be the first to screen the film, an offer they declined.
"[Thatcher] has been the subject of so much satire; she's been lampooned and criticized," Lloyd said. "So I can understand their anxiety in putting her on-screen with dementia."
Edwina Currie, Junior Health Minister under Thatcher, wrote that even though the film's focus on the former leader's frail health and old age was at times "insensitive and irrelevant," she found it to be a "worthy tribute" and credited Streep for "capturing the essence of Margaret's personality, right down to the curl of her lip."
Virginia Bottomley, who held two Ministerial posts in Thatcher's Cabinet, also praised the "The Iron Lady" for successfully highlighting Thatcher's "human side."
Lloyd said that throughout the filmmaking process, she worked closely with a large number of Thatcher's staff and others who knew her well, but her objective was never to make the film a biographical recount or a politically-driven production.
"I wanted to make a story about power and the loss of power," Lloyd told FoxNews.com. "It isn't a political film, but an exploration into how it may have felt to be a woman from a low to middle class family coming into a party with all these posh boys and that isolation. It really is a love story, a story of letting go."
Streep added that the role gave her the opportunity to "investigate her own feelings about losing capacity and power, and saying goodbye to life and figuring out what you value." She said she even found similarities between her own life and Thatcher's.
"I was one of the first 60 women to integrate Dartmouth College at a time when there were 6,000 men," Streep recalled. "I remember walking into the library and almost losing it – many were delighted we were there, but many really didn't want us there. It was a really interesting time, and not so long ago. It was 1970 – about the time Margaret Thatcher was beginning her political climb."