Iraq War veteran's inspiring journey from front lines to 'Nashville'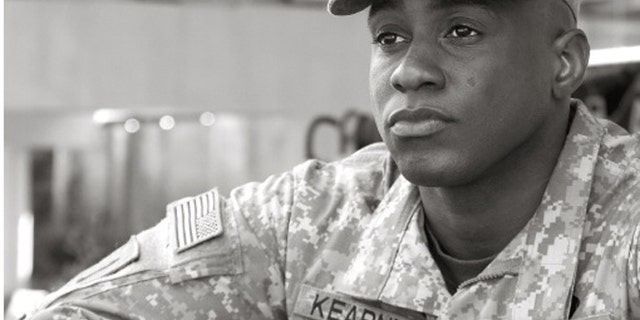 LOS ANGELES – Melvin Kearney may be best-known for playing Hayden Panettiere's bodyguard Bo on the hit ABC series "Nashville," but as a two-time Iraq combat veteran, his story away from the cameras is even more moving and drama-filled.
"I grew up as an Army brat, my dad was my hero and I saw the sense of pride that came over his face every time he put on that uniform," Kearney told FOX411. "I knew that was what I wanted to do. I thought I would just be guarding a base near my college in North Carolina, but halfway through basic training 9/11 happened."
Kearney deployed to Iraq in 2003, and lost a number of close friends on the battlefield. His plan was to finish college and become a U.S. Marshall after returning, but as he was walking to the stage on college graduation day, he received a call from the Army: "Kearney, its Stop Loss. You're going back to Iraq."
Stop Loss was a policy that extended one's military contract, which the Pentagon ended in 2011. From 2001 to 2009, an estimated 120,000 soldiers were affected by stop loss.
"It was an honor for me to put the uniform back on," Kearney said. "My dad always said you go to war but you pray for peace. I knew what I needed to do."
However, this tour – primarily focused on training Baghdad police officers to "take back their country" – changed his life in more ways than most could imagine. While he was out tending to a very young, wounded Iraqi girl, his base was blown up – taking the lives of many in his platoon. His best friend was killed shielding a fellow soldier, who lost both his legs in the attack.
"That just stayed on my mind, it could have been me," Kearney said. "So as soon as I got home I got in my truck and drove to Walter Reed."
Kearney stayed by the bedside of the wounded soldier – who he did not previously know – for several months. It was through that traumatic experience that he recognized his "life calling" and became dedicated solely to helping injured veterans across the country; providing them with opportunities, sharing his infectious optimism and unfailing smile, and coordinating such experiences as one of the largest Military Appreciation days during a university of University of Michigan football game.
So how on earth did Kearney make the jump to Hollywood? By doing what he loved – helping wounded soldiers. While in Nashville, Tenn. working with a soldier suffering from a traumatic brain injury, someone suggested he place a photo on his business card so that he could be easily identified and remembered.
The local photographer also suggested he send some head shots into casting agents seeking talent for a new television series about a country singer entitled "Nashville."
The rest is history.
"I figured why not, maybe I could be an extra. I got a call for an audition and wasn't doing anything that day. Everyone was talking about all their acting and modeling experience, all I had was two tours in Iraq," Kearney noted. "But I got a call back and they offered me the role… I never planned to be an actor. My plan was only to put on that uniform and serve. But it was just what the doctor ordered."
Kearney's input even led to the writers altering the first season script to feature troops and do some filming at the nearby base, Fort Campbell.
"Getting this role wasn't just about me, it was something bigger than me," Kearney added. "And even though I had never acted before, I feel safe when they say 'action.' I had never before felt safe, with my guard completely down. I was always on high-alert and looking over my shoulder, but when they say action the pain goes away."
"Nashville" returns for its third season this Wednesday on ABC.
Follow @holliesmckay www.twitter.com/holliesmckay on twitter