Iranian news site adds sleeves, high neckline to Michelle Obama's Oscars dress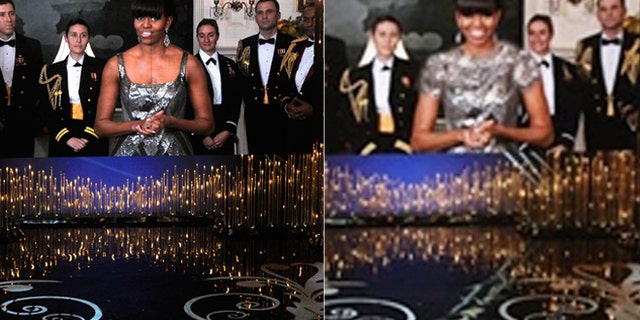 Here in the U.S., Michelle Obama's wardrobe isn't exactly considered risqué. But apparently her gown for the Oscars was too revealing for viewers in Iran.

Fars News, a network in Iran, edited the First Lady's dress in a story about her Academy Awards appearance posted on their website. In the photo, her silver Naeem Khan dress appears with sleeves and a high neckline.

In the article, Fars News states that Obama handed out the best picture award to "the anti-Iranian film 'Argo.'"

Iranian officials have repeatedly criticized the Ben Affleck film, which has not been screened in any Iranian theaters.

Despite that ban, many Iranians have seen the movie. In downtown Tehran, bootleg DVDs of "Argo" sell for about 30,000 rials, or less than $1.
Iranian Culture Minister Mohammad Hosseini said, "The movie is an anti-Iran film. It is not a valuable film from the artistic point of view. It won the prize by resorting to extended advertisement and investment," he said, according to the official IRNA news agency.
He said Hollywood has "distorted history" as part of what Iranian officials call a "soft war" of cultural influence in Iran.
Iran's state TV called the movie "an advertisement for the CIA."
The semiofficial Mehr news agency called the Oscar "politically motivated," citing the First Lady's presentation of the award.
Still, Iranian officials were not the only ones to criticize Obama's virtual appearance at the awards. The surprising presenter instantly drew a few head shakes and loud groans from journalists backstage.
"This makes no sense, it adds nothing to the show," one industry expert told FOX411's Pop Tarts column with a bemused laugh, while another surmised it as something of a "suck job."
"They threw all the campaign parties, I guess it was Hollywood's way of acknowledging their continued love and support of the Obamas," said another. "It was stupid and pointless."
Indeed FLOTUS' presentation drew mixed reviews and ignited quite the debate in the Twitterverse.
"Forget separation of church and state - we need a separation of Hollywood and state," conservative journalist Michelle Malkin retweeted, while others weighed in that it was "tacky and tasteless" and cheapened the Presidency.
Scores of other viewers gave Obama rave reviews, however, calling her appearance "amazing" and "show stealing."
Fox's Hollie McKay and The Associated Press contributed to this report.