Oscar ratings up but Seth MacFarlane says 'no way' would he host again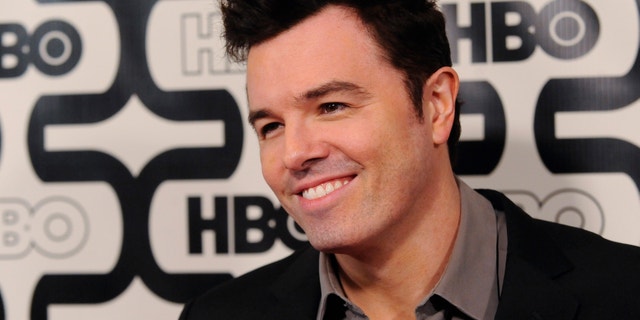 With this year's ratings up 11 percent, does The Academy want Seth MacFarlane to host the Oscars again? It doesn't really matter because the comedian said he won't return as Oscar host.

MacFarlane posted an exchange with a fan on his verified Twitter account early Tuesday. When asked by the fan if MacFarlane would host again, he replies: "No way. Lotta fun to have done it, though."

But ABC may be wishing MacFarlane felt differently.

The Nielsen Co. said an estimated 40.3 million people watched the Academy Awards on Sunday, up 1 million from last year and the first time since 2010 that the show topped the 40 million mark. More importantly for ABC, ratings for the 18-to-49-year-old demographic were up 11 percent over 2012. That's the age group upon which ABC bases its advertising rates, and MacFarlane was brought in this year in part to attract a younger audience.

Twitter also said that there were a total of 8.9 million tweets about the Academy Awards during the show and red carpet arrivals.

But critics trashed MacFarlane's hosting job, calling his jokes inappropriate and sexist.

Among MacFarlane's zingers was a comparison between "Django Unchained" and a Chris Brown/Rihanna "date night," and a pondering whether the always-in-character "Lincoln" star Daniel Day-Lewis would have tried to free Don Cheadle if he had run across him during filming.
And then there was Shatner -- speaking from the future -- quipping that MacFarlane would be a member of the Los Angeles Gay Men's Chorus in a few years.
But what seems to have left parents and more conservative-minded viewers less-than-impressed was the song and dance entitled "We Saw Your Boobs," which saw MacFarlane calling out various actresses and the movies in which they exposed their bare chests.

It seems MacFarlane took notice of the negative reviews but, of course, maintained his sense of humor. The man behind "Family Guy" tweeted a photo of his cat after the telecast along with the caption "My cat said the show went well."

On Monday, the Anti-Defamation League added itself to the list of those offended by MacFarlane, protesting his joke, through the teddy bear character in MacFarlane's movie "Ted," about Jewish control over Hollywood. The bear, voiced by MacFarlane, claimed he was "born Theodore Shapiro and I would like to donate money to Israel and continue to work in Hollywood forever."

MacFarlane seemed completely aware of what he was doing, and there were no indications he pulled any surprises. The motion picture academy granted him complete freedom to write the show as he saw fit but did see MacFarlane's routines ahead of time.

Maybe the comedian knew ahead of time it would be his only run as host and made a conscious decision to not hold back. Either way, it seems the critics won this time as MacFarlane has retired his Oscar-hosting hat.

The Associated Press contributed to this report.