Iran reportedly considering suing Hollywood over 'Argo'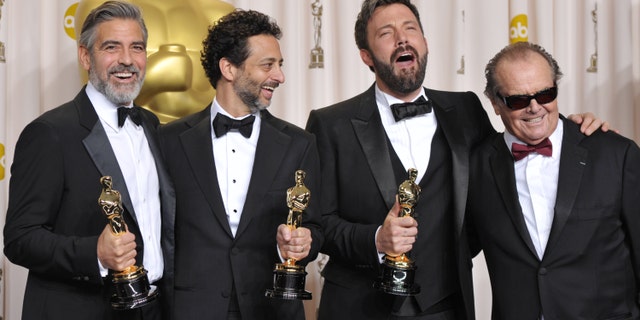 Iranian authorities are planning to sue Hollywood over Ben Affleck's Oscar-winning film "Argo" because they feel the film gives an "unrealistic portrayal" of their country, state media reported Tuesday.
The Associated Press reports several news outlets, including the pro-reform Shargh daily, said on Tuesday that French lawyer Isabelle Coutant-Peyre is in Iran for talks with officials over how and where to file the lawsuit.
Coutant-Peyre is also the lawyer for notorious Venezuelan-born terrorist Ilich Ramirez Sanchez, known as Carlos the Jackal.
The decision on the lawsuit reportedly came after a group of Iranian cultural officials and movie critics screened the film in a closed audience in a Tehran theater late Monday.
The movie is based on the escape of six American hostages from the besieged U.S. Embassy in Tehran in 1979.
Fifty-two Americans were held hostage for 444 days, but a handful of embassy staff were sheltered by the Canadian ambassador. Their escape, using a fake movie as a cover story, is recounted in the film.
After the film won best picture in February, Iranian officials dismissed it as pro-CIA, anti-Iran propaganda.
The semiofficial Mehr news agency also called the Oscar "politically motivated" because First Lady Michelle Obama at the White House joined Jack Nicholson via video link to Los Angeles to help present the best picture prize.
However, not all Iranians agreed. The moderate Hamshahri newspaper said the movie "targeted the culture and civilization of Iran," but is worthwhile for Iranians to see a different perspective of the events that led to the collapse of relations between the U.S. and Iran.
"Iranian audiences are seeing a new version of the events for the first time," said a commentary in the newspaper. "This has been a weak point for our TV and cinema industry, which has not produced anything about the (U.S. Embassy takeover) after more than three decades."
Iran's state-run film industry boycotted this year's Oscars in the wake of an Internet video clip made in the U.S. denigrating the Prophet Muhammad and set off protests across the Muslim world. The affair was not related to "Argo."
Last year, Iranian director Asghar Farhadi won the Oscar for best foreign film for "A Separation," Iran's first Oscar. A month earlier, Iranian authorities ordered the closure of the House of Cinema, an independent film group that operated for 20 years and counted Iran's top filmmakers, including Farhadi, among its members.
The Associated Press contributed to this report.