'Idol' Recap: Show hands out its final Golden Tickets in Carrie Underwood country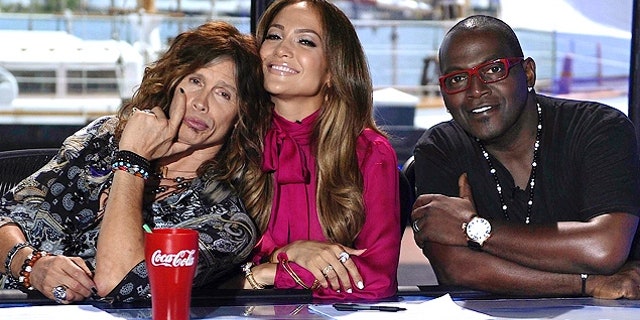 "American Idol" discovered megastar Carrie Underwood in St. Louis, Missouri, way back in season four, so the judges returned to The Gateway to the West with the hope that lighting will strike twice. Several wannabes from the Show Me State gave it their best shot.
Abercrombie-ready Johnny Keyser immediately wowed judge Jennifer Lopez with his corn-fed good looks. Singing his version of Sam Cooke's "A Change Is Gonna Come," he quickly won over judges Randy Jackson and Steven Tyler. In fact, the judges enjoyed Keyser's audition so much, they wouldn't let the 22-year-old stop singing. Lopez marveled, "You know you're gonna be a star, right?" Easily winning three "Yeses," Keyser is off to Hollywood.
Ethan Jones dropped out of high school to join his father to play in a band. Now, his father is in rehab, to which Tyler could relate. "It's so good that he can be a power of example to you and everybody else around him," said the Aerosmith frontman. "I know I work hard to do that as well." Despite blood oozing from the 22-year-old's forehead due to a scratch from a bad case of nerves, Jones sang an impressive rendition of Edwin McCain's "I'll Be." "You're going to Hollywood," enthused Tyler. "And I want to meet your father, man, when he gets out."
It might not be fair to label single mom Rachelle Lamb as bitter, but the 26-year-old openly trashed her former husband in front of her child – and the judges. "He took all them dreams away from me," Lamb lamented. "We do things for love sometimes," Lopez related. Lamb, appropriately enough, performed Faith Hill's "Find Somebody New." Lamb got her revenge on her ex with a Golden Ticket to Hollywood.
Reis Kloeckener was a victim of bullying until he discovered glee–not the TV show, but the glee club in his high school. "Once I joined choir, it was a major turning point," Kloeckener explained. The baby-faced pizza maker sang Bill Withers' "Lean on Me," which especially moved Tyler: "You made me cry; that's how good it was just now. You made me tear up and get all crazy inside." Looking somewhat incredulous at his good fortune, Kloeckener is off Hollywood.
Lauren Gray's performance of Adele's "One and Only" wasn't perfect, but it was strong enough to earn raves from the judges. "You are one of the best female voices we have heard," declared Lopez. "I say absolutely, 100 percent yes." Tyler was equally impressed. "I love the way you break and you go there and are fearless about it...It's the sexiest thing on the planet."
As Lopez made her way out of the auditions, she noted, "I have two words for you. Lauren Gray." Gray joins 45 other contestants from St. Louis who are on their way to Hollywood.
Up next: Tears! Fainting spells! Ambulances! Or, as Ryan Seacrest warns: "The most emotional and exhausting Hollywood Week ever!"