Paula Abdul officially out on 'X Factor' as network executives wish her well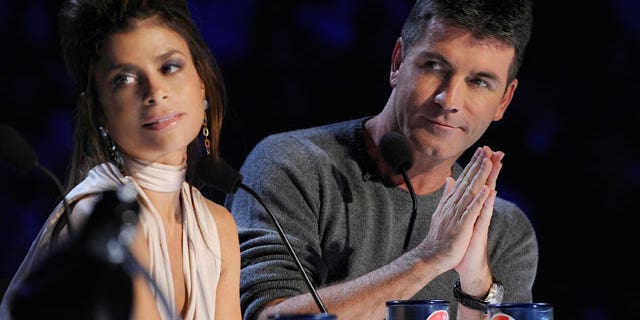 Paula Abdul is officially out of the next season of the "X Factor," following in the footsteps of host Steve Jones and fellow judge Nicole Scherzinger.
In a statement to Fox411, Mike Darnell, President of Alternative Entertainment for Fox Broadcasting said:
"We love Paula. She is a remarkable talent and we appreciate all of her contributions," said Mike Darnell, President of Alternative Entertainment, Fox Broadcasting Company. "We're lucky that she is a part of the FOX family, and we look forward to working with her again soon."
It was just the latest in the bloodbath going on behind the scenes at the hit show.
Apart from the show's untouchable producer and star Cowell, the departure of Abdul, Scherzinger and Jones would leave only judge L.A. Reid.
Jones tweeted on Monday that the jig was up, for him at least. "I won't be hosting next season's X Factor which is a shame, but I can't complain as I've had a great time. Good luck to everyone on the show."
Fox confirmed Monday Scherzinger was also off the show. Abdul's exit has been widely reported, but not confirmed by the network. Neither Scherzinger nor Abdul has commented.
Simon Cowell thanked his fellow judges and offered praise for their work together.
"I want to say a massive thank you to Paula, Nicole and Steve for being part of The X Factor last year. We had a lot of fun making the show together and importantly, we found some real talent and stars," he said in a statement. "You do develop friendships with the people you work with and Paula, in particular, is a very close friend and I expect to be working with her on another project in the near future. I'm sure all three are going to have massive success in what they do next , but now is the time to thank them all for everything they did last year."
The 'X Factor' was a hit by all measures, perhaps aside from Cowell's. The show had very good ratings, drawing between 12 and 13 million viewers per show, but came up short against its ultimate measuring stick: 'American Idol.' Cowell's former talent competition pulls in about 20 million viewers, and Cowell had said that if he didn't beat that number, he would consider the 'X Factor' a failure.
Fox Entertainment President Kevin Reilly had said at the Television Critics Association convention earlier this month that 'there will be changes' to the show. But he also voiced support.
"I'm thrilled with the fact that the show has helped provide us with one of the strongest falls we've had in our history," he said.
Possible replacement judges include singer Mariah Carey, who Cowell said would have been offered the gig had she not been pregnant at the time.