How Miranda Lambert lost 25 pounds for her 30th birthday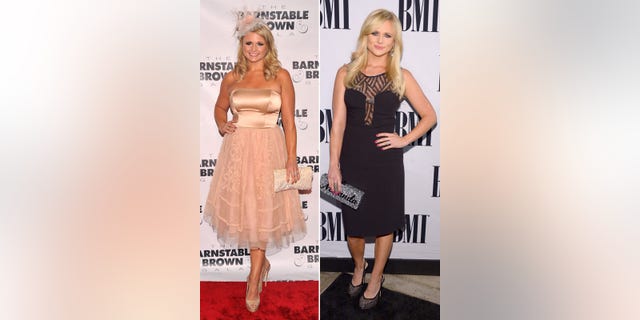 Miranda Lambert lost a full dress size ahead of the big 3-0 by giving up beer and Cheetos and doing a lot of cardio and circuit training, she told 'People' magazine.
"I didn't know until [the CMA Awards] that people were noticing. But you want people to notice when you've worked hard and feel good. That's part of the reward. It's a great motivator," she said.
"I spent my 20s on a roller coaster — my yo-yo weight, working all the time and partying. I just wanted to get healthier and go into my 30s in the best shape I could be in."
In order to stay in shape, she has a personal trainer on tour with her. "We do cardio and a lot of circuit training. We do things that use my body weight, like lunges. People think I lose more [than a dress size], but I'm 5'4″, so when I lose, I lose everywhere."
Husband Blake Shelton brags about her new look, but wasn't supportive at first, because he told her: "I have never had a problem with any way you look. You are beautiful to me at any size and every size."
A pal tells Us Weekly Miranda has lost about 25 pounds.
Miranda told People that instead of a breakfast like bacon and eggs, she now has a green juice. Instead of having a huge, unhealthy cheeseburger, she cuts it in half. "Smaller portions right from the start." She's trying to make healthier choices overall: "Instead of steak for dinner, I might have chicken and a baked sweet potato."
Nutritionist Paula Simpson spoke to HollywoodLife.com about how you can lose weight like Miranda:
"To lose weight safely and effectively, choose a balanced eating plan that focuses on plant and raw based foods more often (these naturally contain essential vitamins, minerals, antioxidants, fiber), keep fluid intake up and try to consume foods to support healthy collagen production (to help skin strong and firm). Above all avoid crash diets as they promote more water and lean tissue loss over fat loss and are generally nutrient deficient over the long term.
By adding certain protein rich foods to your diet, you can promote a healthier rate of collagen renewal and protect your skin from premature aging. Mineral copper that is found in nuts, raisins, sweet potatoes, kidney beans, lobster and oysters facilitates collagen production and therefore should be included in your diet. Lastly, be sure to include foods rich in Vitamin C, as it is essential for collagen synthesis.
Some top collagen boosting foods include poultry, eggs, crab, lobster, oranges, tomatoes, lemons, sweet potatoes, raisins, soybeans, and chickpeas. Choose antioxidant rich foods to help ward off damaging free radicals that break down collagen. Those include green tea, blackberries, black currants, blueberries, beets, endive, and purple cabbage.
In addition to diet, focus on a healthy lifestyle. Smoking, pollution, stress, and chronic sun exposure destroy collagen and can inhibit the skins cellular renewal cycle. Include circulatory exercise daily as this stimulates blood flow bringing nutrients and oxygen to the dermal layer for skin health."