Host Joel McHale generally avoids politics at People's Choice Awards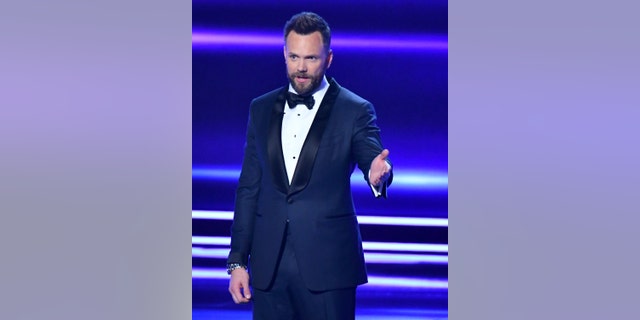 NEWYou can now listen to Fox News articles!
People's Choice Awards host Joel McHale took a very different approach than Golden Globes host Jimmy Fallon and generally steered clear of politics at Wednesday night's show broadcast live on CBS from the Microsoft Theater.
He did reference current events by saying the People's Choice Awards were "the one night of the year where Hollywood reacts positively to what the middle of the country thinks."
"2016 was a very interesting year," McHale said. "We all watched as a longtime government insider squared off against an egotistical billionaire. I'm speaking, of course, about 'Captain America: Civil War.'"
Ellen Degeneres was the night's big winner, setting a record picking up three trophies for a career total of 20 wins.
Other stars taking home crystal statuettes this year included Jennifer Lopez, Johnny Depp, Sofia Vergara, Kevin Hart, Melissa McCarthy and Justin Timberlake. Tyler Perry received the humanitarian award.
A selected list of winners follows:
Movie: "Finding Dory"
Movie actor: Ryan Reynolds
Movie actress: Jennifer Lawrence
Action movie: "Deadpool"
Action movie actor: Robert Downey, Jr.
Action movie actress: Margot Robbie
Animated movie voice: Ellen DeGeneres, "Finding Dory"
Comedic movie actor: Kevin Hart
Comedic movie actress: Melissa McCarthy
Dramatic movie actor: Tom Hanks
Dramatic movie actress: Blake Lively
Movie icon: Johnny Depp
TV show: "Outlander"
Network TV comedy: "The Big Bang Theory"
Comedic TV actor: Jim Parsons
Comedic TV actress: Sofia Vergara
Network TV drama: "Grey's Anatomy"
TV crime drama: "Criminal Minds"
TV crime drama actor: Mark Harmon
TV crime drama actress: Jennifer Lopez
Competition TV show: "The Voice"
Daytime TV host: Ellen DeGeneres
Late night talk show host: Jimmy Fallon
Male music artist: Justin Timberlake
Female music artist: Britney Spears
Group: Fifth Harmony
Male country artist: Blake Shelton
Female country artist: Carrie Underwood
Country group: Little Big Town
Hip-hop artist: G-Eazy
R&B artist: Rihanna
Song: "Can't Stop the Feeling," Justin Timberlake
Social media celebrity: Britney Spears
Humanitarian: Tyler Perry
The Associated Press contributed to this report.