Holland Taylor passionately raves about 'wonderful love' Sarah Paulson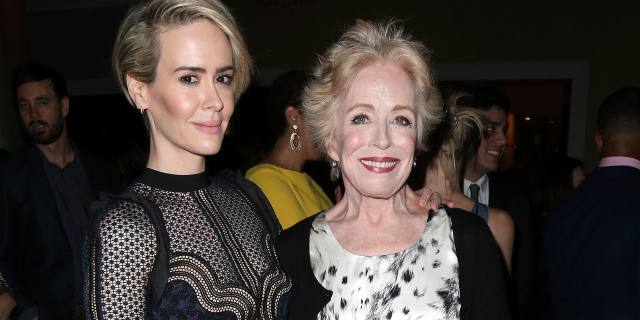 Holland Taylor and Sarah Paulson are our relationship goals for an eternity!
"The Two and a Half Men" star appeared on the Sandyland With Sandra Bernhard SiriusXM radio show this week, where she addressed her girlfriend since 2015 in just about the sweetest words possible.
WATCH: Sarah Paulson Says She's 'Absolutely' in Love With Holland Taylor, Talks Dating Older Women
"It has to be part of what is the most wonderful thing in my life," the 74-year-old actress shared of the public support of their love. "The whole embrace of this wonderful relationship, which makes everything else makes sense."
"I'm the luckiest person in the world," Taylor added. "I can't talk about my life today and not mention this wonderful love."
Thankfully, the sentiment is more than mutual!
WATCH: Holland Taylor Gushes Over Girlfriend Sarah Paulson After Her TCA Awards Win -- See the Sweet Tweet!
"If my life choices had to be predicated based on what was expected of me from a community on either side, that's going to make me feel really straitjacketed, and I don't want to feel that," Paulson told the New York Times last March. "What I can say absolutely is that I am in love, and that person happens to be Holland Taylor."