Hoffman's alleged drug dealer says he's a 'scapegoat'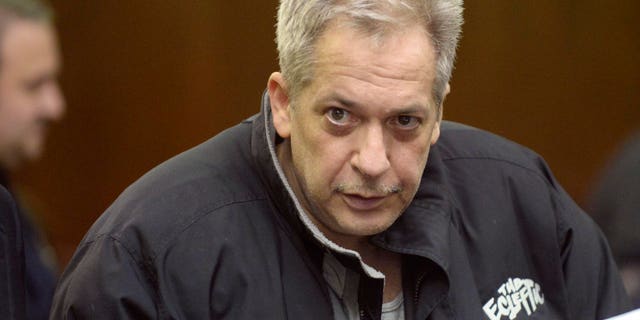 I didn't kill him — and I could've saved him, insists Philip Seymour Hoffman's accused heroin dealer, breaking his silence for the first time since the actor's death last Sunday.
"He was my friend," jazz musician and admitted junkie Robert Vineberg told The New York Post in a jailhouse interview on Rikers Island.
"I could've saved him," Vineberg said, wearing a gray prison jumpsuit and hunching pensively at a red table in a jail visiting area.
"If I knew he was in town, I would've said, 'Hey, let's make an AA meeting.' If I was with him, it wouldn't have happened. Not under my guard."
Vineberg who claims to have been friendly with the 46-year-old actor for approximately a year denies selling him the 73 bags of heroin found in his Greenwich Village apartment. However he declined to respond when asked if he had ever sold the troubled actor drugs.
"When we got together, we talked about books. And art. He was a normal guy. You wouldn't know he was an Oscar winner," Vineberg told the paper. "He loved his kids. I offer my condolences to his family."
The last time he saw Hoffman – high - was in October at his apartment where police discovered 300 bags of heroin during a raid there last week. After that, Hoffman went to rehab for a month and then began filming the "Hunger Games" movie in Atlanta.
Their last contact was by e-mail and text claims the 57-year-old.

"He left me a voicemail in December saying, 'I'm clean,'" claims Vineberg. But by the end of the month the two had lost touch.
Vineberg estimates that Hoffman's habit was 10 bags a day.
"How much was he found with? Seventy bags. You do the math . . . That's a one-week supply," he explains. That amount is double what experts estimate the average addict uses.
Vineberg was charged with felony drug possession but insists that he did not supply Hoffman with his fatal dose. Another two men and one woman have been charged with drug offences possibly connected to the narcotics found in Hoffman's home at the time of his death.
"Don't you understand? I'm a scapegoat," he groused.
Vinberg, an accomplished saxophone player has penned horn arrangements for artists including Madonna, Wyclef Jean and Amy Winehouse but allegedly turned to drug dealing as work dried up.