Hey look staff, I'm on TV! Why political cameos on popular shows are on the rise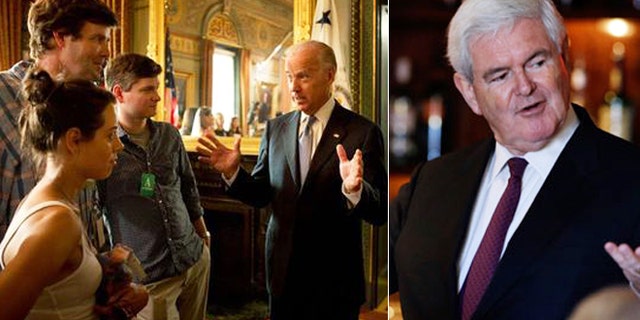 NEWYou can now listen to Fox News articles!
LOS ANGELES – Washington DC and Hollywood have also shared an awkward bond, but these days the relationship is becoming closer as high-ranking political figures are making more and more cameos on popular TV shows and films.
Most recently, former Republican presidential hopeful Newt Gingrich made a surprise cameo on the NBC sitcom "Parks and Recreation" when he walked into the Indiana steakhouse where the show happened to be filming. Gingrich was hastily written into the script, and later referred to the experience as "fun."
"Always fun to do something like that. I had a small role on a Candice Bergen show many years back," he said.
Last month, Vice President Joe Biden made his prime-time acting debut by playing himself on the same NBC show, while New Jersey Governor Chris Christie stopped by "Saturday Night Live." Earlier this year, First Lady Michelle Obama filmed a cameo for Nickelodeon's "iCarly," and followed in the footsteps of former First Ladies Hillary Clinton and Laura Bush when she graced the set of "Sesame Street." Sen. John McCain has made cameos on Fox's series "24" and alongside Rachel McAdams in the comedy "Wedding Crashers."
The list goes on and on. So what's the attraction, other than the thrill one gets from seeing oneself on TV or at the movies?
"Having a politician appear in a guest spot offers the extra lure of a traditional guest star along with a very topical, of the moment feel and the occasional chance to slip in a political point," pop culture and entertainment expert Scott Huver told FOX411's Pop Tarts column. "For politicians, it gives them the opportunity to raise their profile a little more, humanize their image, display a – perhaps previously unseen – sense of humor and, of course, rub shoulders with stars and potential big-money Hollywood donors."
Hence the joining of the two different worlds is most often viewed as a win-win for both parties.
"For the most part, the political figures only play themselves, and always fret about how it will impact their image," explained Alex Ben Block, Senior Editor at the Hollywood Reporter. "However, it has been shown not only by appearing on shows, but making appearances on talk shows, is a way to humanize these figures who often seem so stiff and distant in their public appearances. As long as it doesn't become obsessive or an obvious political ploy, it is a good thing for the audience, the shows and the political figure."
But a high-profile political cameo is no guarantee for a ratings bump. While Michelle Obama's role on "iCarly" generated a viewership of 4.3 million, almost double the amount of average viewers for the show, Biden's appearance on "Parks and Recreation" brought 3.51 million eyeballs, down 22 percent from the show's average 4.5 million audience numbers. And New York City Mayor Michael Bloomberg cameo on HBO's "Curb Your Enthusiasm" brought no increase to the comedy's audience.
Some even see such cameos as detrimental to a powerful figure's public persona.
"If politicians wanted to appear on TV or film, they should've gone to acting school and left Washington to those who are actually interested in serving the people," commented media expert Louise Pennell. "Not only is this a low way to win votes, it's an ego trip. If Obama, Biden, McCain and others stopped appearing in Hollywood and spent more time working on running the country, perhaps we'd have a budget by now."
But the umbilical cord connecting Hollywood and The Hill is not about to be snipped any time soon.
"With it becoming more and more difficult to break through the constant din of the 24-hour news media, guest bits and cameos will certainly continue to provide a highly desirable outlet for politicians to presumably get positive public exposure without necessarily taking a stance on any issues," Huver added. "And to attempt to show that they're in on whatever the joke may be."