HBO's John Oliver sued by coal magnate over 'Last Week Tonight' segment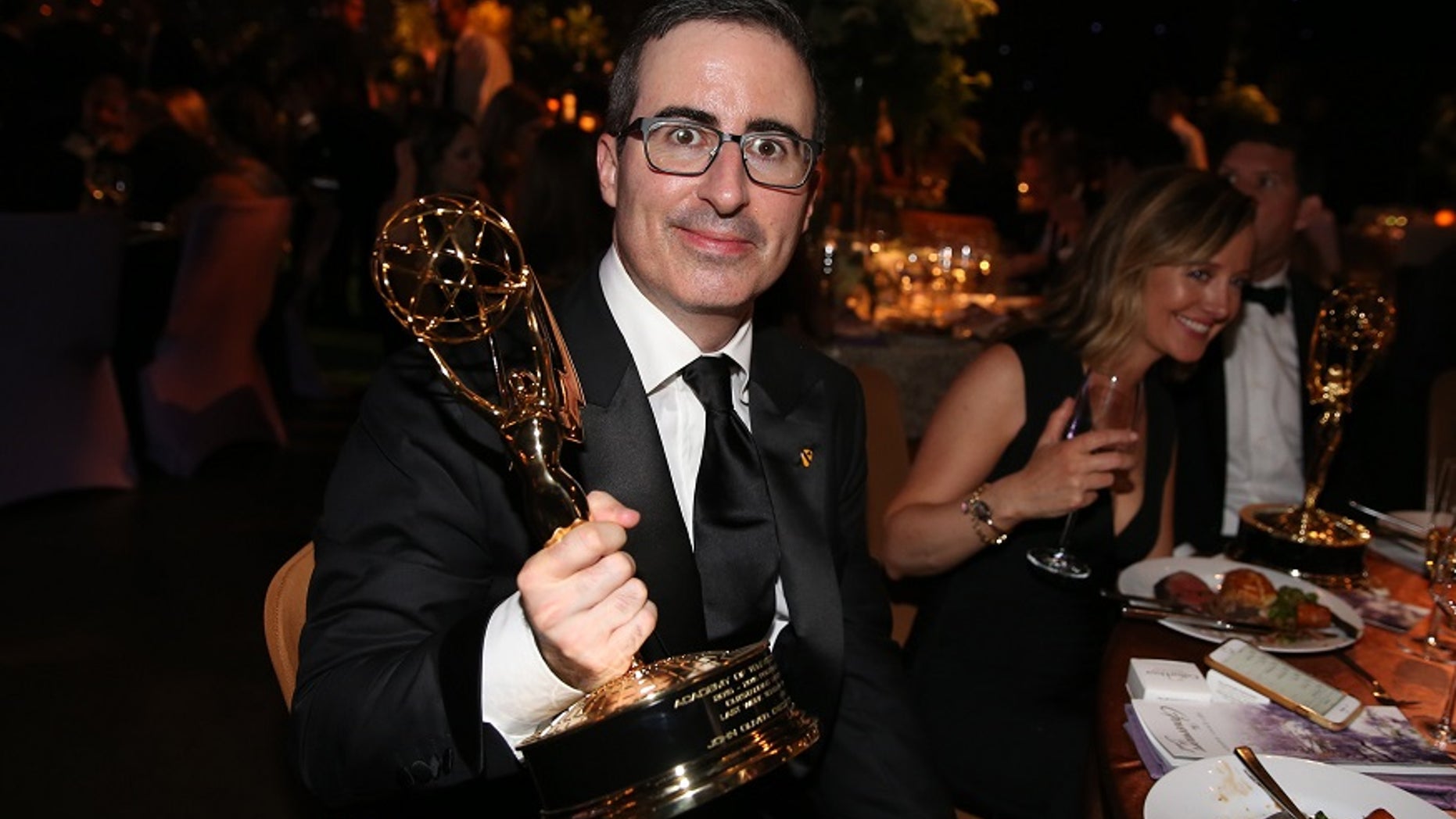 Robert E. Murray, the head of the country's largest private coal mining company, has sued HBO talk show host John Oliver over a segment he did Sunday on his show, "Last Week Tonight," regarding coal.
Along with Oliver, Murray is also suing Time Warner and HBO, according to the Daily Beast. Murray's suit, which was filed on Wednesday in West Virginia, alleged that Oliver and his staff "executed a meticulously planned attempt to assassinate the character of and reputation of Mr. Robert E. Murray and his companies" by broadcasting the segment that heavily criticized the coal industry and Murray, 77, the CEO of Murray Energy Corporation.
'DIRTY DANCING' ACTRESS JENNIFER GREY RECALLS WORKING WITH PATRICK SWAYZE: 'IT WAS LIKE A MARRIAGE'
"They did this to a man who needs a lung transplant, a man who does not expect to live to see the end of this case," the complaint stated.
However, Oliver said during the episode that he expected Murray to sue him.
"I'm going to need to be careful here," Oliver said. "Because when we contacted Murray Energy for this piece, they sent us a letter instructing us to 'cease and desist' from any effort to defame, harass, or otherwise injure Mr. Murray or Murray Energy,' and telling us that 'failure to do so will result in immediate litigation.'"
The comedian then proceeded to lambaste Murray and the U.S. coal industry in the show's main segment.
Oliver called Murray a "geriatric Dr. Evil," and claimed the coal magnate treated his employees poorly. The HBO host also disapproved of Murray's response to a deadly collapse in August 2007 in the Crandall Canyon Mine in Utah, which is owned by Murray's company. Murray said the collapse was caused by an earthquake but a government investigation said the accident was triggered by safety violations, Oliver said.
The complaint stated Oliver ignored the company's data that supported Murray's reasoning.
"Because Defendant Oliver omitted any mention of the other reports he was aware of that evidenced that an earthquake caused the collapse, as Mr. Murray correctly stated following the collapse, Defendant Oliver's presentation intentionally and falsely implied that there is no such evidence," the complaint stated.
An HBO spokesperson told the Daily Beast that the company has not seen the whole complaint, but it stands by Oliver's segment.
'FIXER UPPER'S' CHIP AND JOANNA GAINES ON LIVING THE AMERICAN DREAM: 'NOTHING HAS COME EASY'
"While we have not seen the complaint, we have confidence in the staff of 'Last Week Tonight' and do not believe anything in the show this week violated Mr. Murray or Murray Energy's rights," the spokesperson stated.
At the end of the episode, Oliver brought out a person wearing a squirrel costume to joke about Murray allegedly saying a squirrel told him to open his coal mining business.
"Hey Bob, just wanted to say, if you plan on suing, I do not have a billion dollars," Mr. NutterButter, the squirrel mascot on Oliver's show said. "But I do have a check for three acorns and eighteen cents."