Harvey Weinstein accuser Ambra Gutierrez says some people use #MeToo 'in the wrong way'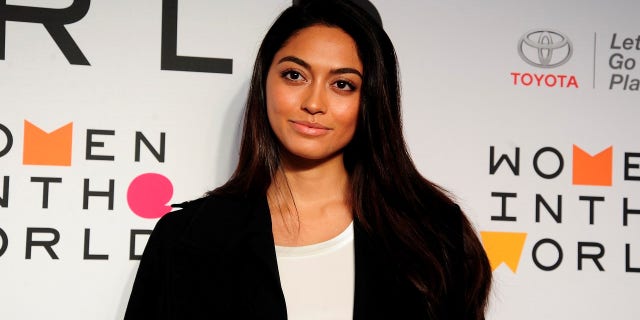 Victoria's Secret model Ambra Battilana Gutierrez, who spoke out against disgraced movie mogul Harvey Weinstein in 2015, said she hopes to use her upcoming podcast to prevent people from using the #MeToo movement "in the wrong way."
Gutierrez said the movement that has empowered women to speak out about the sexual misconduct they've experienced has "two different faces" — one that could end a person's career, the New York Daily News reported Tuesday. Gutierrez, who will launch her new podcast "In Our Words" on Thursday, said she wants to give men who feel they were wrongly accused a chance to provide their side of the story.
"Some people use #MeToo in the wrong way," Gutierrez, 26, said. "I feel that #MeToo is for the collective benefit. Somebody speaking bad about someone else to ruin their careers is not good."
"I've had so many of my other friends or movie directors or whatever and they came onto these lists and they lost so much work," the model added. "The #MeToo movement has two different faces. You can really ruin somebody if it's not real."
Gutierrez made headlines in 2015 when she accused Weinstein of attempting to force himself on her in his New York City office. She previously told The New York Post that she was forced into exile because no one believed her story. The model said she suffered from depression and struggled to find work until last year, when explosive reports detailed other women's disturbing encounters with Weinstein.
She said she feels "vindicated" since the sexual misconduct accusations were made against Weinstein, who has previously denied any wrongdoing.
Despite suffering from a barrage of negative reports for two years, Gutierrez said she "was never a #MeToo."
"I was never a #MeToo, I was a 'fight back,''' Gutierrez said. "I went to the police and everything. It's not that I sat down 'til it was safe for me to speak."
Gutierrez worked with the New York City Police Department shortly after reporting the 2015 encounter. She met with Weinstein again while wearing a hidden microphone and caught the Hollywood producer admitting and apologizing for groping her. The audio was published by the New Yorker in October 2017.
The model said she knows several people who've been damaged by accusations stemming from #MeToo.
"You have to be very careful of these things you publish," Gutierrez said. "I lived it in my skin."