Hannah Donker talks being The Weeknd's love interest in 'Secrets'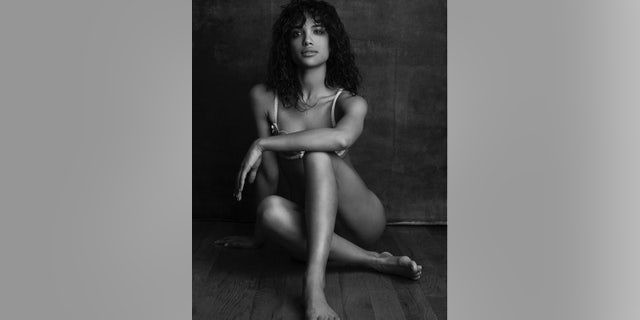 NEWYou can now listen to Fox News articles!
Hannah Donker's life would completely change when Abel Tesfaye, best known as The Weeknd, released a new music video for "Secrets"— except she didn't know it right away.
The 25-year-old Wilhelmina model, who starred in the video as his love interest, had lost her phone and didn't realize fans were instantly buzzing about the mystery girl in the video once it was released.

The Canadian starlet was previously scouted by a modeling agents when she was 16-years-old, but she opted to put her focus on her schoolwork. Then, a few years ago, an agent reached out to Donker on Facebook and convinced her to strut for the cameras.
But when Donker secured the job to appear in a music video for the 27-year-old singer, she had no idea what would come of it.
Fox News spoke with Donker about spending two days with The Weeknd and how she's handling her newfound fame:
Fox News: How were you approached to be involved?
Hannah Donker: My agent in Canada told me about the opportunity with The Weeknd in Toronto, but I was actually in New York at the time… but she somehow managed to convince his team that I was right for the role and next thing you know, I got the job… The director told me I would be on set next week. It's so crazy because it was such a busy time in New York, but I was heading to Canada to do this. I was just so grateful for the opportunity and the fact that they even looked at me. I got the job in mid-February and it took two days to film the video. But it was two really long days in Toronto.
Fox News: What was your reaction when you saw the video for the first time?
Donker: It's really funny because everyone saw it before me! I lost my phone recently and I was without one for a couple of days. And actually, I lost it after I went see The Weeknd at a concert. I left my phone in the car. But I literally wake up on a Monday and decide to check in on my iPad before I got my new phone. And I had all of these messages from hundreds of people just freaking out. [The video] was out. I had no idea when it was going to come. And honestly, in this business you never know whether they're going to cut your scenes or change things up.
The fact that this was just a great opportunity and it happened to me, I really didn't know what to expect afterwards… I mean, remember, I did this in February and it's now June. I haven't talked about it in so long so I wasn't sure if was going to be released. I didn't have any insight into what was going to happen. And now, I have people texting me from high school, even elementary school in England texting me! I have people finding me on social media saying, 'We just saw you!'
Fox News: How do you feel about all the attention you've been receiving?
Donker: I'm really grateful for it. I'm happy people enjoyed the work that I did… I'm getting lots of sweet messages from people on social media and I'm trying my best to respond to all of them, interact with them. It's really beautiful to see how The Weeknd has touched these people's lives and how much his fans love him. I guess now I get to experience some of that and it's really cool! But I'm honestly still in shocked by all the attention I've been receiving.
Fox News: Did you bond with The Weeknd while filming?
Donker: I wouldn't necessarily call it a bonding. I mean, he's a really, really sweet guy and a really, really cool guy. I was quite nervous on set and felt that everything was going really fast. But he has a humorous persona, which was really nice because I felt at ease. It didn't feel like I was part of a music video for The Weeknd. It just felt like a regular work day. We're both Canadian so we had the same vibe. He was a really easy person to work with.
Fox News: How did he put you at ease?
Donker: He made me laugh, which was nice. Everyone on the team was really sweet…and we all got along. But I was really nervous. I really wanted to put out a good piece of work for him and make it look good. But the fact that he was so easygoing and loved to share jokes just made it so much easier for me.
Fox News: What surprised you about The Weeknd while getting to know him on set?
Donker: His humility. I was working with this big star, but it felt like I was just hanging out with a nice Toronto guy.
Fox News: Did you see or hear anything concerning his girlfriend Selena Gomez?
Donker: No… It was a very professional setting.
Fox News: Have you stayed in touch with him?
Donker: No, I have not. But he's a busy artist! He's got a lot of things to do. And he's got a beautiful woman to take care of.
Fox News: As a model, how do you stay in camera-ready shape all year long?
Donker: I'm actually quite lucky because I'm naturally built. But I do like to eat healthy. I eat a lot of whole foods, but I also don't restrict myself. If I want ice cream, I'm going to get ice cream. Even yesterday, I had so much pizza. It's not about dieting. It's not about restricting yourself. It's not about starving yourself to achieve a certain job. That's completely the wrong way. It's about working with the body you have.
I walk a lot in the city, I do boxing with my girlfriends… I don't take it too seriously. I make sure I feel comfortable with how I look. If anything, I make sure to eat and fuel my body. I want to eat to take care of myself. All of that aesthetic stuff can come after. I always want to make sure I can run around to castings and serve it on set.