Guns N' Roses omission from Rock Hall inductees list an 'oversight,' rep says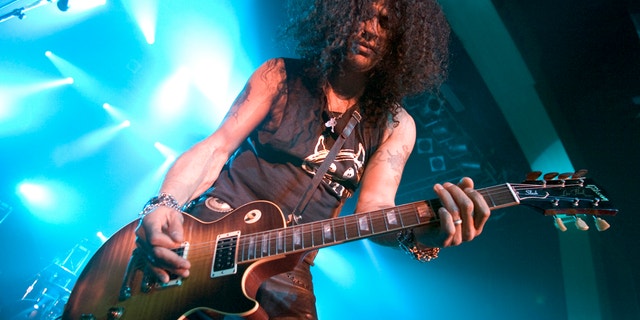 NEWYou can now listen to Fox News articles!
It turns out that not having a reunion concert is causing more drama for Guns N' Roses and the Rock and Roll Hall of Fame than if the old timers had actually gotten back together this weekend.
On Thursday, it even looked like the Rock and Roll Hall of Fame was having second thoughts about inducting any of the Gunners at their Saturday night ceremony in Cleveland.
A list of inductees and performers sent to journalists conspicuously left out Guns N' Roses -- the year's biggest inducted band and the biggest story of the week following lead singer Axl Rose's Hall of Fame snub -- off of the list of inductees and performers.
We emailed the Hall of Fame, and they ensured us that it was simply an oversight.
But what an oversight.
A rep for former Guns N' Roses lead guitarist Slash told us he would most definitely be attending this weekend's ceremony.
Slash hangs out with Johnny Depp, Alice Cooper.
Steven Adler, the band's original drummer, told FoxNews.com that he would also be attending, and that Rose's decision to blow off the long anticipated reunion with the original lineup was a huge insult to Guns N' Roses fans.
"I think it's disrespectful and we'll leave it at that," he said. "I'm going to be there, Slash is going to be there, Duff is going to be there, because we appreciate our fans and the respect that we get all around the world. And it's not just a letdown to us, it's a letdown to the whole world, to all our fans. But that's his choice."
The drama over the induction began this week when Rose, the iconic metal band's lead singer, wrote a lengthy letter rejecting the Hall of Fame's proffered induction and asking that they not induct him into their ranks in absentia.
Revolver Golden Gods metal awards highlights and pics.
In his rambling screed, which was addressed to the Hall of Fame, his fans and anyone else who cared, Rose declared that when he first heard news of the induction "I was honored, excited and hoped that somehow this would be a good thing. " He then said that he began to believe that reuniting with the original members of Guns N Roses, Duff McKagan, Slash, Dizzy Reed and Steven Adler would bring about "somewhat of a complicated or awkward situation."
Rose and Slash haven't been onstage together since 1993. That's 20 years.
"He hates my guts," Slash told Rolling Stone in an interview. "It's over a lot of different stuff; I don't even know. There's just no communication between us."
Fans lashed out at Rose on the Guns N' Roses official website, which is maintained by Rose, and posted Axl's letter in full.
"Any of you who post that you support AXL are fools. you arent true fans of guns n roses or its music. you are sycophantic morons who support this jackass when he is pulling yet another bitch maneuver," one commenter wrote.
Another chimed in: "I would have respected Axl more if he just didn't show up. That would have been typical Axl. Writing a long pompous letter is so not rock n' roll. Guns N' Roses now is not what it ever was after 93."
Reuniting the original members of the band for a long-anticipated concert was expected to be a big audience draw for the Hall of Fame ceremony which will be broadcast for the first time on HBO on May 5th and has never had much success drawing in a large audience.
"While the Hall of Fame induction ceremonies have created some of the most iconic musical jams ever, it has not been an overwhelming success in getting viewers, like MTV's Video Music Award Shows or this years Grammys," explained media analyst Brad Adgate of Horizon Media. "Axl Rose not appearing will not help but I think the fact that ratings are generally low to begin with, it will be a minimal loss in ratings."
But some music experts still believe anything could happen on Saturday.
"Axl Rose doesn't do publicity stunts but Axl's Rpose's behavior is a publicity stunt on a regular basis. Who takes the stage at midnight and then plays for two and a half hours or three hours? Axl. He just functions on a different plane," said Billboard correspondent Phil Gallo told Fox411. "We have a three week gap between the induction and the broadcast so if Axl does show up that will give them three weeks to promote that people see it on HBO."