Grammys Couples Drama: Taylor Swift disses Harry Styles; Chris Brown and Rihanna get cozy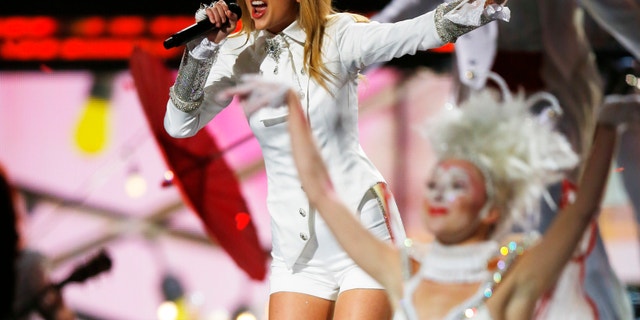 Couples past and present were front and center at Sunday night's Grammy Awards.
Taylor Swift kicked off the night with a rendition of her song "We Are Never, Ever Ever Getting Back Together" with what seemed a dig at her latest ex-boyfriend, One Direction singer Harry Styles.
During the middle section of the song, she said in a male, British accent: "So he calls me up and says I still love you. But I said, I'm sorry, I'm busy opening up the Grammys."
Chris Brown and Rihanna are also officially back together at this year's show after the horrific events of four years ago when Brown beat his girlfriend's face black and blue the night before the 2009 Grammys telecast.
The two were seated beside one another, with Rihanna resting her head on Brown's shoulder.
Rihanna said last week that if getting back with Brown was a mistake, it "is mine to make."