Grammy Red Carpet Protest over Latin Jazz Diss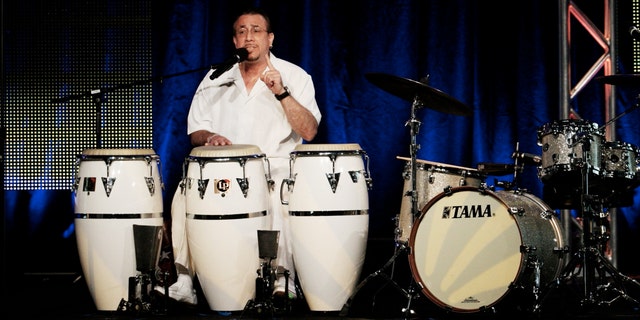 This Sunday, the 54th Grammy Awards will be a media circus for something other than the red carpet.
Following the National Academy of Recording Arts and Sciences' (NARAS) decision to eliminate 31 award categories, most of which were global music, musicians are taking to the picket lines to protest.
Bobby Sanabria, a five-time Grammy nominated Latin jazz musician, told FOX News Latino NARAS is sending a bad message to musicians of all backgrounds by dumping the categories.
By eliminating these categories without any input from members, NARAS is showing these artists that they do not care about "representing diversity" in music, Sanabria said. .
Sanabria, and fellow Latin jazz musicians Mark Levine, Benjamin Lapidus and Eugene Marlow, feel so strongly on the issue that they have filed a historic, class action lawsuit against NARAS.
While the lawsuit is only on behalf of Latin jazz, it is meant to represent all of the artists who are no longer able to participate and submit music to the Grammy Awards committee.
Other artists like Carlos Santana, and Reverend Jesse Jackson, are speaking out on the issue.
Sanabria hopes that those musicians who can still be nominated and are attending the awards show will recognize the artists that no longer have this opportunity.
The protest will take place at 3:30 p.m. on Sunday at Staples Center while the Grammy red carpet takes place. By protesting as the stars arrive, the demonstrators hope to garner more media attention.
Once the award ceremony begins, those artists that can no longer participate—including Sanabria, two-time Grammy winner Oscar Hernández, and multiple Grammy nominee John Santos—will perform a concert in Los Angeles that the organizers, presente.org and grammywatch.org, are calling the "alternative Grammy Party."
"We are holding this concert to remind music fans about all the great music that has been eliminated from the Grammys. To paraphrase what Frank Sinatra said at the first GRAMMY Awards in 1959, 'Remember, the awards are about excellence, not popularity.' It is part of NARAS' mission to support the diversity of all American music," Grammy Watch Group spokesperson and Latin jazz artist Bobby Matos said in a press release.
It was last year on April 6 that NARAS president Neil Portnow shocked the organization's 21,000 members with the announcement that the Academy would eliminate nearly one-third of its categories, decreasing the number of 2012 Grammy Awards from 109 to 78.
The decision completely eliminated categories, while also decreasing the overall chance for artists to win the music industry's most coveted award.
Sanabria believes this is not only an issue of recognition, but one of human and civil rights.
When NARAS reached out to Sanabria and those involved in the protest, they offered to sit down with them—but only after the Grammy's had already taken place.
Did Chespirito Just Hit of Sofia Vergara?
Sanabria called NARAS' offer "disingenuous," saying he thinks the organization only wants to end the negative media attention. He said if they were serious about discussing the issue, they would be willing to meet before the award show takes place.
Sanabria says that in the end, this all comes down to money.
However, he also says that the academy has created "implications (of) cultural insensitivity" by eliminating a "majority of categories (that) represent ethnic groups."
While they may not be the biggest money makers, Sanabria says it is categories like contemporary blues and jazz, that have laid the foundation for popular music today.
The group has vowed to continue protesting until NARAS gives them what they want.
For details on the protest visit www.grammywatch.org.
You can reach Kacy Capobres at:
KacyJayne@gmail.com or via Twitter: @KacyJayne
Follow us on twitter.com/foxnewslatino
Like us at facebook.com/foxnewslatino