'Good Morning America' host Lara Spencer a 'network's dream,' has 'Today' searching for answers, sources say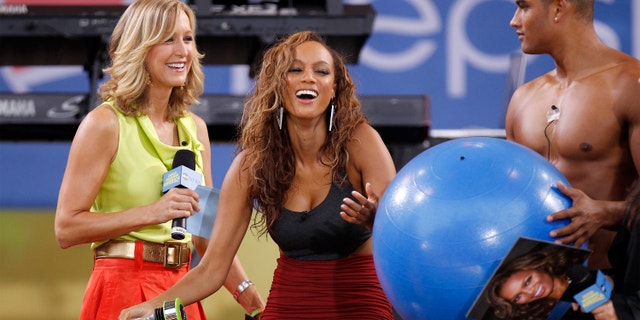 NEWYou can now listen to Fox News articles!
The ratings war between NBC's "Today Show" and ABC's "Good Morning America" has never been more fierce, with "GMA" now beating the longtime No. 1 morning show week after week. As "Today" brass pulls their hair out trying to figure out what went wrong, sources tell FOX411 that new host Lara Spencer may be what's going right for "GMA."
The former "Insider" host, who started in May, covers mostly pop culture and celebrities for "GMA." Her glamorous appearance, smarts and friendliness are successfully translating to the morning television audience, morning show veterans tell FOX411.
[pullquote]
"Lara is America's sweetheart. She's beautiful, but has a strong perspective as a journalist no matter what she is covering," says one insider, who knows Spencer personally. "The hook with her is that she's absolutely beautiful, but she's not threatening. She's the woman you know, not the intimidating supermodel."
Indeed its Spencer's approachability that may be her secret weapon.
"She's married, she's a mom. She's relatable. She has also been around so you know her face, she's familiar, yet she's still only at the beginning of a very long TV career," the source explained. "She's a network's dream, she spikes ratings."
While NBC are keeping an eye on their rival, a source tells FOX411 they are more concerned with righting their own ship. "[NBC] are aware that Lara and Robin [Roberts] are competition, but they are focused on trying to make the best show possible," says one source.
That is proving to be tough with all of the drama surrounding "Today" and its hosts Matt Lauer and Savannah Guthrie. Things came to a head when Ann Curry was replaced in July and Lauer was rumored to have played a major role in her ouster. She is currently still with the network in a new role as an international correspondent.
NBC did not return emails from FOX411 for comment.
New York Times writer and morning television expert Brian Stelter, who is writing a book tentatively titled "Top of the Morning" about "Today" and "GMA" and the other morning shows, weighed in on Spencer, saying that she's excellent on camera and that she and co-host Robin Roberts appear to be genuine friends, which translates to viewers.
(Roberts is suffering from MDS, a blood and bone marrow disease. She received a bone marrow transplant nearly a month ago, and is home recovering.)
"Too often on TV, relationships between hosts seem forced or fake. I think viewers sense that the hosts on 'GMA' actually, genuinely like each other, and that's why they like watching. It's comfortable, the same way the "Today" show was comfortable for a long time with Matt Lauer and Katie Couric," Stelter says. "Lara helped make "GMA" more comfortable. She came in last year and rounded out the cast. She took some of the pressure off Robin and George [Stephanopoulos]. They didn't always seem to enjoy the lighter segments after 8 a.m., but she does."
Stelter said the lighter fare that Spencer covers has helped boost the show.
"Lara's "Pop News" segment also made the show more entertaining, a crucial piece of the puzzle," he told FOX411. "She covers pop culture stories that people care about, yet she's also in on the joke -- she knows when viewers are laughing at the stories, and she laughs along with them."
As for "GMA" rising in the ratings, Spencer was overheard recently saying that every time the staff gets good news, they "pop champagne."
At this point, they must be getting a little tipsy.