'GMA' weathergal Ginger Zee opens up about anorexia battle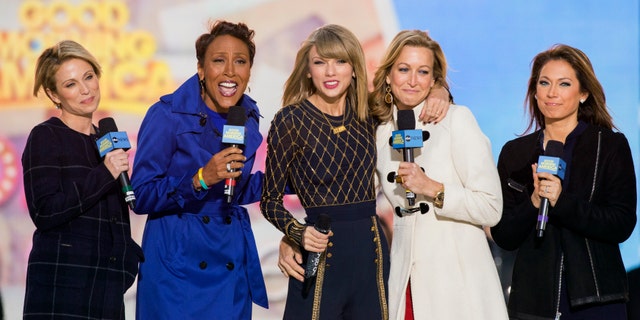 NEWYou can now listen to Fox News articles!
"Good Morning America" meteorologist Ginger Zee stunned "Dancing with the Stars" viewers when she revealed her youthful struggle with anorexia.
Monday night's semifinals explored the childhoods of the remaining five competitors, and Zee told the cameras she simply stopped eating after her parents divorced when she was seven.
"We were moving, I had to make new friends ... and I needed to control something, so I was like, 'I know what I'll do—I'll just not eat,' " Zee said. "[Ages] ten to 14 was the bulk of my anorexia. I don't think I even knew how bad it was at that time.
"I'm so angry that that's the way I decided to cope. It's going to be with me my entire life. I'm always going to have body shaming issues but I think I've now grown into enough of a woman and a mature person that I realize life's a lot bigger than that."
The weather gal, 35, who made it through to next week's "DWTS" final three, told FOX411 after the show that confiding her anorexia secret was difficult.
"That's a moment in my life that I have not shared with a lot of people. It's not something I'm proud of because it's a disease that I chose and although I know a lot of people suffer with it…I hope that this will maybe get the conversation going in a family because that's the biggest thing," she said.
"Anorexia is a lot about lying to yourself. I lied to myself constantly and that [lasted] not just that four or five really bad years, but then for the next 15 years and I feel like this one of the first times in my life I'm being honest with everybody and myself."
When asked how she was treated for anorexia, Zee said, "Definitely therapy, a lot of therapy and then my mother took me to an in-patient [facility] to scare me, basically, and showed me what the next step is and the next step was girls who were dying and who were on their way to death and then she said, 'And that one will die tomorrow.' It was shocking. It didn't make me better right away but I know that I had the great support of my family. This is the fear factor a little bit."
Zee told FOX411 that her stepfather, who works as a counselor, helped her as well: "He's a saint. He came into our lives and he taught me about nutrition, about self-love, about a lot of things and I think once I started to learn that adding calories in and taking calories away you can work out but I got obsessed with working out [too], like everybody kind of goes through these things, but he helped me to get out of that moment in my life."
Zee said she realized, "There's such a great life ahead. You don't need to torture yourself. You can beat this. This shouldn't overtake you."
The troubled little girl developed a passion for weather after spending a summer near Lake Michigan observing thunderstorms--and eventually nabbed her dream meteorologist job on "GMA."
Zee has also found happiness in her personal life, marrying fellow media personality Ben Aaron. They had a son, Adrian, in December.
On Monday night's "DWTS," Zee scored 56 out of a possible 60 points for two dances with partner Val Chmerkovskiy, making it into the finale with fellow competitors Paige VanZant and Nyle DiMarco.
"I feel so grateful to be here," she smiled to reporters. "It was a really great night."