George the Poet claims he was strip-searched by police after London show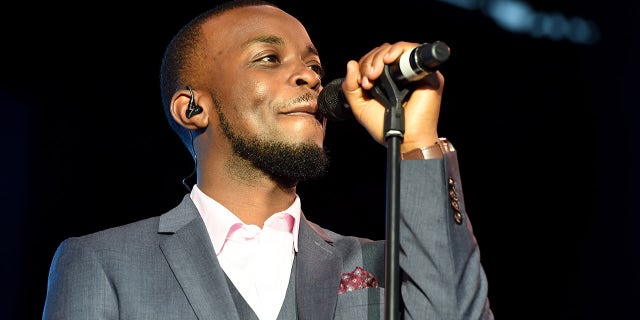 Acclaimed spoken-word artist George the Poet, who created a specially commissioned poem for the royal wedding of Britain's Prince Harry and American actress Meghan Markle, claimed he was strip-searched by police for no reason after a London gig.
The Cambridge graduate, whose real name is George Mpanga, took to social media to describe the confrontation and revealed it took place Thursday night outside his parents' house.
"Last night after a beautiful sold out show I was chilling outside my parents' house when police rolled up in that big van asking questions about my car," wrote the 27-year-old on Instagram. "I answered and verified.
"Then they told me to move my hand from my waistband. Out of nowhere they cuffed me and searched my car for weapons. After the car itself was the first issue. They put me in the van and did a strip search. Then they took 20 mins to write my search slip, being rude to my parents and neighbors the whole time."
Mpanga posted a video in which police can be heard asking him for identification. In response, he tells them, "Wikipedia me, Google me." The Instagram post also shows family members coming out of their home to ask police why they stopped the performer.
"I don't like sharing images of me being handled like a second-class citizen by public servants whose salaries we pay taxes for," he explained. "This is not how I see myself, and it's not what I invite into my life.
"But these images should be an education for anyone who doesn't understand the toxic energies that are quietly spread throughout our community by state actors. Imagine if my nephews woke up and saw their big famous uncle getting handled like this. What seeds would that sow in them?
Mpanga concluded the post by saying that writing his explanation was "boring" and "I've got better things to do."
"Sorry to anyone who was woken up by the noise," he added.
Mpanga also told BBC 5 Live's Stephen Nolan police quickly approached him after his Thursday night performance.
"My engine was off, my lights were off," he explained. "While I was answering questions, officers were hovering around the car, flashing torches into it. At this point, I'm not aware of any problems [with the car], so I'm repeatedly asking 'What are the grounds for these questions?'
"They told me they'd found I wasn't insured. So I showed them my insurance policy. They started implying that I was being uncooperative, handcuffed me and said they needed to search my car for weapons. To go from an insurance question to searching for weapons requires explanation."
Diane Abbott, shadow home secretary in London, reached out to Mpanga on Twitter Friday to express her sympathy.
"So sorry this happened @GeorgeThePoet," tweeted the 64-year-old. "Sadly still happens to young black men too often. Evidence-based stop and search can be a tool against crime. But random stops like this take too many resources for what they achieve, and in the end only poison police-community relations."
However, investigators insisted Mpanga was not strip-searched and they indeed were following standard protocol.
"On Thursday, June 28, officers from the Territorial Support Group were patrolling an area highlighted to them in intelligence reports for having high gang activity," a rep for the Metropolitan Police told Fox News Monday.
"While on patrol their attention was drawn to a man sitting in a car on Lansbury Close... and they decided to investigate. The number plate of the vehicle was checked via the Police National Computer which indicated the vehicle was uninsured.
"Officers spoke to the driver — a 27-year-old man — and explained that the vehicle was not displaying any insurance. The man's behaviour provided grounds for officers to search him. To afford him privacy, a further search was carried out inside a police van which required the man to remove his shoes, and his waistband was checked by an officer. This was not a strip search.
"Nothing was found following the search and he was not arrested. The man provided officers with his details and they established that he did in fact have insurance for the vehicle. The stop and search was recorded correctly by the officers.
"The officers were wearing body worn video — the footage has been reviewed by senior officers who are satisfied at the way the search was conducted. We would be happy to invite the man involved in this incident to view the body worn video footage if he wishes to do this and explain the protocols around stop and search as well as the actions of the officers involved.
"Those involved in incidents can request to view body worn video footage. Footage that is not being used for evidential purposes is stored for 31 days."