George Christy Exclusive: Inside Clint Eastwood's 'Invictus'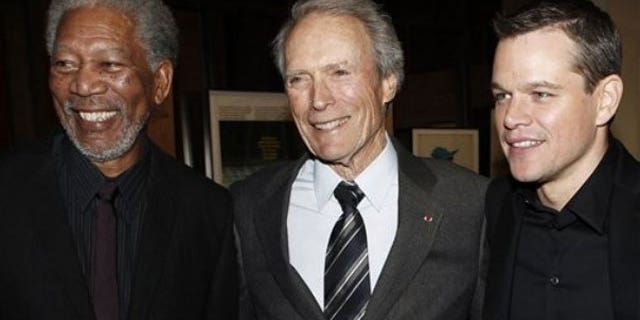 NEWYou can now listen to Fox News articles!
Famed Beverly Hills Courier columnist George Christy gives you an insider's peek into Hollywood's A-list parties and personalities.
Clint Eastwood's "Invictus," which translates as "undefeated," stars Morgan Freeman as Nelson Mandela and Matt Damon as Francois Pienaar, captain of the South African Springboks. We're pleased to report it's a friendly family affair, with original music by son Kyle Eastwood, and son Scott Eastwood cast as one of the Springboks, the rugby team of Afrikaner players who won the 1995 World Cup Final. This became the turning point in healing the wounds of South Africa's apartheid crisis. Chosen from 500 rugby players who auditioned, Scott, 23, plays Joel Stransky, who was responsible for all of the points scored by the team. "He got knocked around a lot," muses Clint.
"You only create winners," PR veteran Dale Olson complimented Clint, referring to Clint's Oscar winning and nominated films ("Million Dollar Baby," "The Unforgiven," among others) during the supper party at the Beverly Wilshire after the premiere at the Samuel Goldwyn Theatre.
"I guess I'm lucky," Clint answered, with Dale adding, "Well, there's that gift called talent." On hand were John Carlin, whose novel, "Playing the Enemy," inspired screenwriter Anthony Peckham, and both were introduced to guests by producer Mace Neufeld and executive producers Gary Barber and Roger Birnbaum.
The evening benefited the American Film Institute, with loyal members of the AFI Associates hosting a strong industry turnout, and Warner Bros.' Barry Meyer introducing Clint, as is the Italian custom for directors, as Commandatore.
Clint's films have explored social justice over the decades, having grossed $1 billion, $600 million. The former bipartisan mayor of Carmel, Clint was born in San Francisco and grew up in nearby Piedmont and Oakland, where Clint recalls many locals were black, and that he attended multiracial schools, later worked in pulp mills, as a lifeguard and in aircraft maintenance. "I loved music, played ragtime piano in an Oakland bar," he tells Parade magazine, "and couldn't figure out why black players couldn't play in a white band. And why white players couldn't play in a black band.
RELATED: Click here to read George Christy's full column at the Beverly Hills Courier