Gabriel Aubrey says Halle Berry's fiance threatened him before fight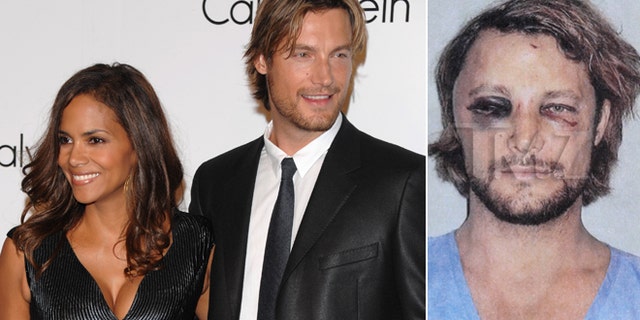 LOS ANGELES – Halle Berry's ex-boyfriend claims the actress's fiance threatened to kill him during a Thanksgiving confrontation that left him with a broken rib, bruised face and under arrest.
Gabriel Aubry's claims are included in court filings that led a judge Monday to grant a restraining order against actor Olivier Martinez, who is engaged to the Oscar-winning actress.
Click to view pictures of Gabriel Aubrey's injuries on TMZ.
Aubry, 37, was arrested on suspicion of misdemeanor battery after his confrontation with Martinez on Thursday, but he states in the civil court filings that he was not the aggressor and that he was threatened and attacked without provocation. Martinez told police that Aubry had attacked first, the filings state.
A representative for Martinez could not be immediately reached for comment.
Aubry's filing claims Martinez threatened him the day before the fight at an event at his daughter's school that he and the actors attended. Aubry, a model, has a 4-year-old daughter with Berry and the former couple have been engaged in a lengthy custody battle.
The proceedings have been confidential, but Aubry states a major aspect of the case was Berry's wish to move to Paris and take her daughter with her. The request was denied Nov. 9, Berry's court filings state, and Aubry shares joint custody of the young girl.
Aubry claims Martinez told him, "You cost us $3 million," while he was punched and kicked him in the driveway of Berry's home. Aubry had gone to the home to allow his daughter to spend Thanksgiving with her mother, the filings state. Aubry claims Martinez threatened to kill him if Aubry didn't move to Paris.
Berry was not in the driveway during the confrontation and neither was their daughter, the documents state.
Photos of Aubry's face with cuts and a black eye were included in his court filing.
A judge set a hearing for Dec. 17 to consider whether a three-year restraining order should be granted. Aubry has a Dec. 13 court date for the possible battery case, which has not yet been filed by prosecutors.