'Full Metal Jacket' actor R. Lee Ermey dies at age 74
NEWYou can now listen to Fox News articles!
R. Lee Ermey, a former Marine Corps drill instructor known to millions of moviegoers as the sadistic Gunnery Sergeant Hartman in Stanley Kubrick's "Full Metal Jacket," died Sunday morning, according to his longtime manager. He was 74.
In a statement posted on Twitter, Bill Rogin said Ermey had died due to complications from pneumonia.
"He will be greatly missed by all of us," Rogin wrote. "Semper Fi, Gunny. Godspeed."
A Kansas native, Ermey enlisted in the Marine Corps in 1961 at age 17. He served for 11 years, including 14 months in Vietnam, before he was discharged in 1972. He served as a technical adviser in Francis Ford Coppola's 1979 Vietnam War epic, "Apocalypse Now," in which he also had a small role as a helicopter pilot.
But Ermey didn't get his big break until eight years later, in Kubrick's own take on Vietnam. He was originally supposed to be a technical adviser, but Kubrick offered him the role of Gunnery Sergeant Hartman after seeing a demo tape of Ermey railing at extras while tennis balls flew at him.
In his role as a drill instructor breaking in new Marines at boot camp on Parris Island, S.C., Ermey roared his way into film history by berating his unfortunate charges.
WARNING: VIDEO CONTAINS PROFANITY
"Here you are all equally worthless," Ermey/Hartman says by way of introduction. "And my orders are to weed out all non-hackers who do not pack the gear to serve in my beloved Corps. Do you maggots understand that?"
The main target of Ermey's wrath is the unfortunate, overweight Private Pyle, played by Vincent D'Onofrio.
"Were you born a fat, slimy, scumbag puke piece of s---," Private Pyle, or did you have to work on it?" the gunnery sergeant asks in one scene.
But having turned Private Pyle into a killing machine, Hartman is helpless when his own creation turns on him, gunning him down the night after boot camp graduation after Hartman asks: "What is your major malfunction, numbnuts?"
Kubrick told Rolling Stone that 50 percent of Ermey's dialogue in the film was his own.
"In the course of hiring the marine recruits, we interviewed hundreds of guys. We lined them all up and did an improvisation of the first meeting with the drill instructor. They didn't know what he was going to say, and we could see how they reacted. Lee came up with, I don't know, 150 pages of insults," Kubrick said.
D'Onofrio and "Full Metal Jacket" co-star Matthew Modine tweeted their condolences late Sunday, with Modine quoting the poet Dylan Thomas.
"Full Metal Jacket" earned Ermey a Golden Globe nomination, as well as a career playing authority figures -- from Mayor Tilman in 1988's "Mississippi Burning" to little green army man Sarge in the more family-friendly "Toy Story."
In all, Ermey racked up more than 60 credits in television and film, including apperances in "Se7en," "Prefontaine," and "Toy Soldiers." He also hosted the History Channel series "Mail Call" and "Lock N' Load with R. Lee Ermey."
An outspoken conservative, Ermey spoke to Fox News in 2016 about being "blackballed" from Hollywood over his political views.
"I've had a very fruitful career. I've done over 70 feature films," he said. "I've done over 200 episodes of [Outdoor Channel series 'GunnyTime']... and then [Hollywood] found out that I'm a conservative."
Actually, he corrected, "I'm an Independent, but I said something bad about the president. I had something unsavory to say about the president's administration, and even though I did vote for him the first time around, I was blackballed."
Ermey, who was an NRA board member, said at the time that his association with the organization and his disapproval of President Obama cost him acting jobs.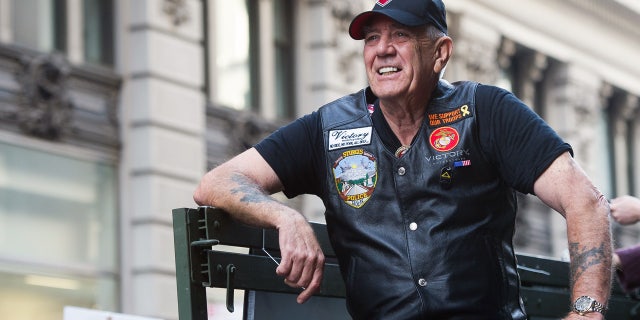 "Do you realize I have not done a movie in five to six years? Why? Because I was totally blackballed by the ... liberals in Hollywood," he alleged. "They can destroy you. They're hateful people [who] don't just not like you, they want to take away your livelihood ... that's why I live up in the desert on a dirt road ... I don't have to put up with their crap."
"He will be greatly missed by all of us," Rogin told The Associated Press Sunday. "It is a terrible loss that nobody was prepared for."
Rogin says that while his characters were often hard and principled, the real Ermey was a family man and a kind and gentle soul who supported the men and women who serve.
Fox News' Sasha Savitsky and The Associated Press contributed to this report.