From Richard Dawson to Steve Harvey: The long history of 'Family Feud' and why viewers keep tuning in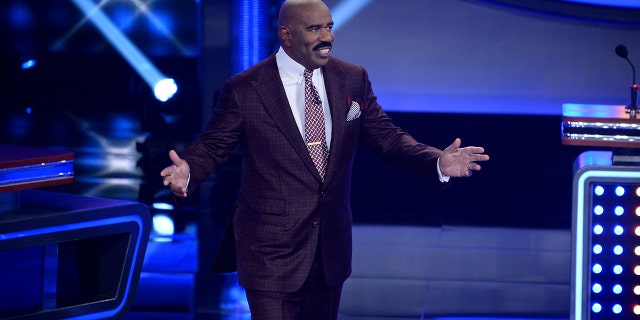 NEWYou can now listen to Fox News articles!
"Family Feud" has captivated audiences and remained one of the most successful game shows for the past 42 years, since its debut in 1976. Amid a slew of changing hosts, different time slots and controversies, why do viewers keep coming back decade after decade?
Originally created by producer Mark Goodson, "Feud" started out as a loose spinoff to "The Match Game," which was popular among families at the time. ABC aired the series with original host Richard Dawson, who was a popular panelist on "The Match Game."
Although the show struggled at first, it quickly became one of the top-rated daytime game shows on TV. The show wasn't dethroned until 1984, when "Wheel of Fortune" launched in syndication with Pat Sajak and Vanna White. In 1985, amid waning ratings and complaints from Dawson about the show's grueling schedule, ABC pulled the plug.
For most shows, it would have been the end of an era, but for a show like "Family Feud," with a built-in game that people love, it was just a bump in what would become a very long road.
And the survey says…
"Family Feud" returned to the airwaves after just three years away. This time, it was picked up by CBS with a new host, comedian Ray Combs. The show was a success once again, even ushering in a new hourlong format that saw families from the previous episode return.
However, by 1992 ratings shifted once again and the spinoff "Family Feud Challenge" aired its last episode in the 1993 season. The show stayed, but with some distinct differences.
Then, Dawson came back for a single, revamped season. (Meanwhile, Combs died by suicide in 1996.)
Despite a bump in the ratings, CBS determined that the show was unsustainable, even with Dawson's return. Just like that, "Family Feud" was removed from the air for a second time. However, the second cancellation didn't stick either.
The show found new life once again in 1999 when it was brought back in syndication with comedian Louie Anderson at the helm. Now getting critical acclaim for his role on the FX series "Baskets," Anderson is responsible for the "Family Feud" fans know today. Perhaps his most lasting impact on "Feud" was his push to double the prize in the "Fast Money" round.
"So I feel very proud about my days on the 'Feud.' I took the money and really feel like I talked them into — or had a big part in helping them — make [the grand prize] $20,000 instead of $10,000. I always rooted for everybody, I felt like I was funny, and I wasn't Richard Dawson, but I was the best I could be at it, and I loved giving people money," Anderson told The A.V. Club in 2016. "It was a great three years. And it was a great thing for charities."
The star fondly remembers a benefit following Sept. 11 in which the FDNY and NYPD competed against each other on the show to raise money. After Anderson split in 2002, "Home Improvement" star Richard Karn took over and kept the lights on until it was time for "Seinfeld" star John O'Hurley to take the helm in 2006.
After so many years on the air, its ratings were steady but still low.
Save for a brief run of "Celebrity Family Feud" with host Al Roker in 2008, the series appeared to be on its last leg until it was saved by Steve Harvey.
Harvey managed to increase viewership when he took over in 2010. Not since the years of Dawson was "Family Feud" such a household name. While other hosts saw ratings drop over time, Harvey's run increased, retaking the crown from "Wheel of Fortune" as the most viewed game show in 2015.
"It's Steve Harvey. That's our secret sauce," producer Gaby Johnston told The Daily Beast in 2015. "It's Steve Harvey."
That same year, Harvey told Fox News that he attributed the show's success to knowing what the people at home want to see.
Not so family-friendly
Harvey believes that, unlike his predecessors, calling out outrageous answers is what gave the show new life.
"If someone said an answer that was so ridiculous, I knew that the people at home behind the camera had to be going, 'What did they just say?' … They gave this answer that doesn't have a shot in hell of being up there," he told Fox News. "The fact that I recognize that, that's comedic genius to me. I think that's [made] the difference."
"Feud" is no stranger to courting controversy. It's been that way since Dawson made a name for himself not just as a humorous and witty host, but as the guy who would kiss all the women on the show, regardless of their age or marital status. The habit was not without its critics, however, and executives reportedly tried – and failed – to put an end to it. But Dawson argued to keep the kissing going, and he even went as far as to poll viewers about whether he should stop smooching. He claimed the votes were overwhelmingly in favor of keeping it going.
"I kissed them for luck and love, that's all," Dawson once said.
The happily married Harvey does not get physical with any contestants – but the show did seem to learn a valuable lesson from the Dawson days: sex sells.
The jump in ratings in 2015 coincided with a new concept to the game show world – viral videos. Two clips from Harvey's "Family Feud" went viral for their sexually explicit jokes. In one clip that gained attention online, Harvey asked a contestant to name "the last thing you stuck your finger in." The player responded, "My wife." Harvey laughed and then told the contestant, Kevin, "Kev, I've had a lot of good answers. [That was] my favorite answer of all time." The host then quickly added: "Don't do that no more."
Another clip in which a woman says the word "penis" without thinking, prompting Harvey to go silent for several seconds, also went viral. While the clips were shared by fans, others noted that the show was getting a bit racy.
"A lot of humor has been added in and we've added in questions that lean that way," Johnston admitted to The Daily Beast. "The material's a little more — well, not so politically correct, but it's fun."
Today, it's not hard to find clips of contestants giving outrageous or even sexually explicit answers in the hope of earning the big cash prize.
Meanwhile, "Family Feud" remains a hit game show in American households and it has a big presence internationally.
Though many things have shuffled and shifted on the show throughout the years, the game's format remains mostly unchanged. "Feud" pits two families against each other and they are given a survey topic. The family attempts to pick the top answers to the blind survey question. Whichever group gets the most points moves on to the Fast Money round, in which two family members try to score enough points to win the grand cash prize.
When the contestants do well, the audience cheers. When they don't answer well, the audience often laughs.
The most popular answer is…
Whether it's the game's mechanics, Harvey's hosting or courting risque situations, "Family Feud" continues to be a staple in the game show world both in the U.S. and internationally. Deadline reported in 2017 that, under Harvey's reign, the show is poised to become the first nationally syndicated TV series to ever increase its ratings for seven consecutive years. The show began at a 1.4 in 2010 and moved to a 6.8 not only overtook "Wheel of Fortune" but powerhouse game show "Jeopardy" as well.
It seems that, at least for now, as long as families will show up to compete, "Family Feud" will be around to let them.