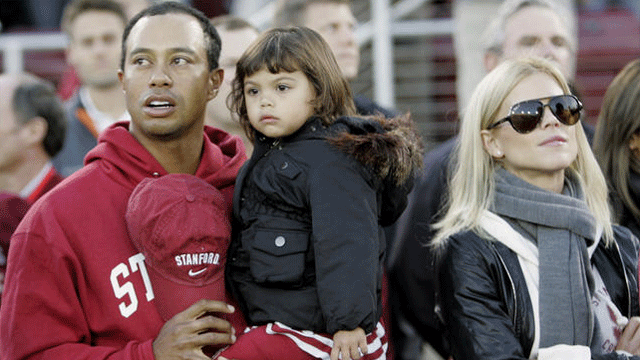 Tiger Woods' wife Elin Nordegren is taking her two children and moving to Sweden after weeks of shocking revelations about her husband's infidelity, Fox411.com has learned exclusively.
Tiger is not accompanying Nordegren and their kids, daughter Sam, 2, and son Charlie, 10 months, a source close to her family tells Fox411.com
A second source confirms to Fox411.com that Nordegren will move out of the couple's Windemere, Florida mansion before Christmas.
That is the same house where Woods crashed his SUV in the early morning hours following Thanksgiving.
The revelations come as People magazine reports that Nordegren is meeting with divorce lawyers to renegotiate the couple's prenuptial agreement.
SLIDESHOW: Elin Nordegren: From bikini model to billionaire's wife.
SLIDESHOW: Tiger Woods' sordid scorecard.
Earlier this week, Nordegren, 29, was seen pumping gas near the couple's home in Florida without her wedding ring. Yesterday, movers were spotted removing boxes and works of art from the Woods' mansion at the direction of Nordegren, the Post reports.
RELATED: Tiger Woods and Rachel Uchitel: Too Close for Comfort?
According to the Post report, Nordegren spent a few minutes instructing the workers before driving off in her red SUV with her children.
Earlier in the day, Nordegren took her kids to lunch at a local Thai restaurant and the kids seemed to be in good spirits.
A snoop at the Thai eatery said the kids "looked happy and healthy. It seemed like they had no idea there was any sort of problem."
RELATED: Despite Explosive Scandal, Tiger Woods Voted Athlete of the Decade
Nordegren wasn't faring as well, said the eyewitness.
"She looks bone-thin," a source said. "And her conversation with the other adults was very intense, especially in comparison to" Sam and Charlie, who were smiling.