Fox execs defend canceling 'Brooklyn Nine-Nine,' renewing 'Last Man Standing'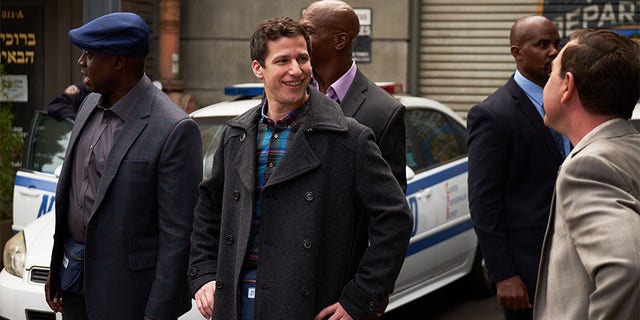 Fox executives are thrilled praised cop comedy series "Brooklyn Nine-Nine" has found a new home just a day after the network canceled the series.
Deadline reported Friday the Andy Samberg-starring series was picked up by NBC for a 13-episode sixth season.
The NBC pickup came hours after fans took to social media, including celebrity 'Nine-Nine' fans Mark Hamill, Seth Meyers, Lin Manuel Miranda and Guillermo del Toro, among others, to express outrage over the comedy's cancellation and rooting for the show to get saved by a different network.
"Brooklyn Nine-Nine," which first premiered in 2013, explores the hilarious antics of Jake Peralta (Samberg), an immature, but talented NYPD detective in Brooklyn's 99th precinct.
Dana Walden, chairman and CEO of Fox Television group, announced in a 2018 programming presentation for the press on Monday that the network doesn't regret their decision in giving "Brooklyn Nine-Nine" the axe.
"I think it was based on a variety of factors," she explained. "We love the show. It had great creators. It's a phenomenal cast. We ordered it throughout five seasons, which is a great length of time for a single camera comedy. Ultimately, we felt like we didn't have the exact right place to schedule it this year to perform best in our Sunday night lineup."
Walden said Fox wanted to instead boost the profile of Emmy-winning animated series "Bob's Burgers," which has been on the air since 2011.
"We made a decision this year, which was we wanted to give 'Bob's Burgers,' an Emmy-winning huge performer for us, an opportunity to have a primetime period and to really grow," said Walden.
"Once we made that decision, it just limited the opportunities we had to schedule 'Brooklyn Nine-Nine' and ultimately, we decided that we just didn't have the room for it, with Thursday night football going into the fall," she added. "We were trying to create a more cohesive schedule and scheduling 'Brooklyn' was going to prevent us from launching something new."
Still, Walden said Fox is pleased "Brooklyn Nine-Nine" hasn't completely lost its place on television.
"We're really happy that it's found a new home," she said. "We kind of assumed it would. We knew there were conversations that were going on with other platforms and I'm really happy for the whole team."
While "Brooklyn Nine-Nine" was canceled by Fox, it did pick up Tim Allen's "Last Man Standing," which was canceled by ABC in May 2016 despite its high ratings.
Many fans of "Last Man Standing" speculated at the time ABC gave it the boot over its politics, a rumor that ABC vehemently denied at the time.
After ABC's success with "Roseanne," which features a pro-Trump character, calls for Fox to bring back "Last Man Standing" were revived.
Gary Newman, Chairman and CEO of Fox Television Group, said it wasn't a "tonal shift" to ditch "Brooklyn Nine-Nine" in favor of "Last Man Standing" for a more conservative audience.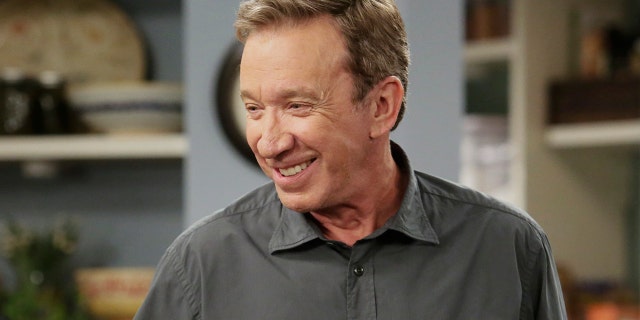 "We certainly didn't go into the season thinking that we needed to make a tonal shift," said Newman. "Even last year when 'Last Man' was canceled, we really looked for an opportunity to move it to our schedule and we just didn't have the right show to pair it with.
"We didn't have the right opportunity. It was a really compressed time when it was canceled at the very end in May. We were emboldened by the response we saw on 'Roseanne.' We saw it as an opportunity to pair those two shows together on Friday night."
"Last Man Standing" tells the story of a married father of three who tries to maintain his manliness in a world often dominated by women. It was ABC's second most-watched comedy after "Modern Family."
Walden said Fox executives have been in talks with Allen "throughout the year" in hopes of bringing back the series.
"We tried to move 'Last Man Standing' over last year when ABC decided not to move forward," she said. "It's a really funny show… We always felt like for whatever reason, ABC didn't really prioritize 'Last Man Standing.'
"[The show] drew 8.5 million viewers every Friday night with very little promotion. We always wondered how it would do if it was given a better opportunity and prioritized more in terms of a network's marketing agenda."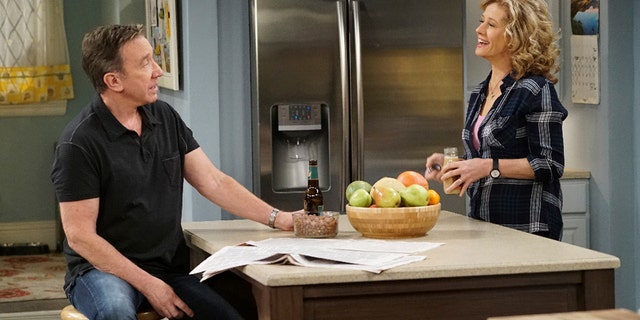 Allen, a conservative who has voiced his support for Trump, starred as Mike Baxter, who is also politically conservative on the show.
In a statement sent to Fox News on Friday, Allen said he was "excited" to begin filming Season 7.
"When I heard the offer to create more episodes of 'Last Man Standing,' I did a fist pump so hard I threw my back out," he wrote. "It's the fans! I could not be more grateful for the fans who wrote petitions and kept up the passion and incredible support for the show.
"And a fist pump, ouch, for Dana Walden and Gary Newman at Fox for not only listening to the fans but for making the bold move to bring 'Last Man Standing' back. I'm sure audiences will be curious to see what we look like after all these years. Oh, has it only been one year? Well, just goes to show you – a lot can happen in a year."
"Last Man Standing" is set to return this fall.