FOX buys retirement home comedy from Twitter star Kelly Oxford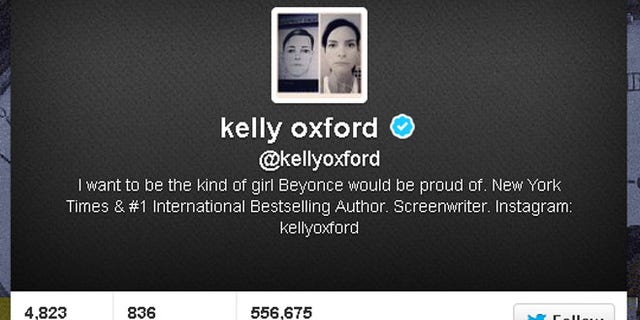 Earlier this fall, FOX bought a drama from Diablo Cody. Now the network has taken in a project from another female writer looking to translate her Internet following into a successful screenwriting career. FOX has put in development a single-camera comedy from Kelly Oxford, a Twitter star with more than 550,000 followers.
The untitled project, which has a script commitment, is based upon Oxford's real-life work in a retirement home and centers on a 30-year-old single mom who runs the recreation department of a senior center. Warner Bros TV is producing, with Oxford co-executive producing.
A Calgary stay-at-home mother aspiring to be a writer, Oxford started a blog in 2002 to share her experiences raising her kids and vent about things. The blog quickly gained traction, but it was the companion Twitter feed that exploded, propelling Oxford to Internet stardom.
Her snarky, straight-up observational tweets (read a sample of her recent ones below) drew celebrity A-listers as followers, including Howard Stern and Jimmy Kimmel. Hollywood came knocking, and Oxford sold a family comedy based on the blog to CBS in 2011 with Jessica Alba producing and another family comedy to NBC last year. Also last year, Warner Bros picked up her feature comedy spec Son Of A Bitch.
WME-repped Oxford, who has relocated with her family to Los Angeles, is also working on I Can't Believe I Forgot To Tell You This, a follow-up to her best-selling collection of essays Everything Is Perfect When You're A Liar.