Farrah Abraham sells sex tape as raunchy pics leak online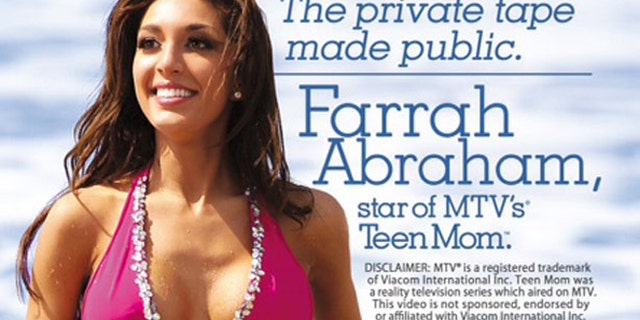 Former "Teen Mom" Farrah Abraham has officially gone from reality star to porn star.

The MTV starlet sold her sex tape, filmed with adult-film actor James Deen, for more than six figures, according to TMZ. The young mother is said to be making about $1 million from the raunchy movie.

And now some photos from the X-Rated flick have hit the web. In the pics, obtained by TMZ, Abraham is seen posing seductively on a bed and in the shower.
PHOTOS: Click here to see the NSFW pictures

On Tuesday, the "Teen Mom" said she was happy with the money she earned for the tape.

"I am happy with the seven figure settlement I have reached, with who I feel to be the best adult entertainment company in the industry, Vivid," Abraham said in a statement. "This is a risk for me to take, however I feel comfortable having given the rights to Vivid, a company I know can handle the media and press surrounding my sexuality."

The tape, titled "Farrah Superstar: Backdoor Teen Mom" will be released May 6 on Vivid's website and May 14 in stores.