Experts say Nicki Minaj could lose fans from Grammy performance; singer couldn't care less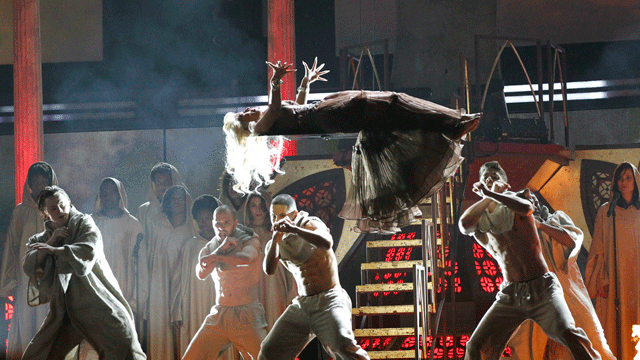 Nicki Minaj has a message for critics of her controversial, Catholicism-inspired Grammy performance on Sunday night: "Stay offended. Not a single F**K is given," she said via Twitter on Monday, in the aftermath of her widely-panned song-and-dance routine.
Alrighty then!
In an attempt to be "edgy," Minaj performed "Roman Holiday," a track from her forthcoming album, complete with a self-exorcism, burning flames and gibberish. However, some experts are now predicting that the overall negative reaction to her moment in the spotlight could seriously hurt album sales.
"Nicki Minaj was clearly aiming for shock value and mass PR, and she succeeded. With big ideas and shock value comes big opportunity, but also backlash," Ronn Torossian, CEO of 5WPR told FOX411's Pop Tarts column. "She has to be aware of possible alienation from some of current fans, who take religion and spiritually seriously."
Last month, Minaj announced via Twitter that her sophomore album, "Pink Friday: Roman Reloaded," would not be coming out April 3, although it was initially slated for a Valentine's Day release. In another blow to Minaj, last week BET banned her music video for another track on the album entitled "Stupid Hoe," with the unofficial reason being it wasn't a good fit for television.
Minaj's religious-mocking Grammy performance not only annoyed critics, audience members and an abundance of Twitter followers, it understandably rubbed some Catholics the wrong way.
"There are Catholic priests who are trained to perform exorcisms, and it seems plain that the time has come for Nicki Minaj to make an appointment," President of the Catholic League of America, Bill Donohue, told us. "Even worse than Minaj is The Recording Academy that runs the Grammys: they knew exactly what she was going to do and gave her the green light. I've never heard of a collective exorcism, but there is a first time for everything."
Dan Gainor, VP of Business & Culture at the Media Research Center, also took aim at the rap star and Grammy officials.
"Bashing Catholics is 'in,' and Nicki Minaj and the Grammy's pulled out all the stops – making fun of the Sacrament of confession, mocking exorcism and using the Catholic Church as background for a bizarre musical number," he said. "The performance highlighted a man dressed as a priest and even included a snippet of Minaj singing "O Come All Ye Faithful," mixed in with heavy doses of sex."
The Recording Academy, CBS and a rep for Minaj did not respond to a request for comment.