Experts: Cable TV has taken the place of the mid-budget movies studios abandoned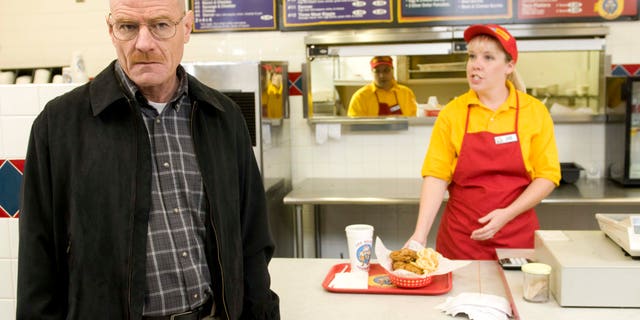 LOS ANGELES – Once upon a time, being in the movies was an actor's ultimate goal, and working on TV was considered a good backup plan. Those days are long gone as TV shows like "Breaking Bad" and "Mad Men" offer actors the meatiest roles of their careers plus a steady paycheck, and actors and experts we talked to say the change is all the big movie studios' fault.
"The scope and output of the film industry has contracted. Stars can hope to get cast as part of a hugely budgeted studio franchise, or agree to work economically in indie films," television writer Xaque Gruber told FOX411. "But the middle-budgeted movies that were the meat-and-potatoes of many earlier generations have been rapidly vanishing."
Television -- especially cable television – has taken the place of those mid-budget "serious" movies Hollywood now largely avoids. Also, on cable, many of the creative restrictions that bound network shows for generations have been removed, making many shows play more like serialized films.
Claire Danes, who acted in big budget movies like "Romeo and Juliet" and "Little Women," is now winning accolades for her work in Showtime's "Homeland." For this year's Outstanding Lead Actress in a Drama Series Emmy, she's up against fellow film veteran turned "House of Cards" star Robin Wright and "Scandal" sensation Kerry Washington, also previously known for her movie work. In fact, the list of 2013 Emmy nominees is full of movie-turned-TV stars, including Kevin Spacey, Jeff Daniels, Laura Dern, and Bryan Cranston.
"In this day and age, most of the (movie) scripts are so s**ty and superficial," Oscar nominee Melanie Griffith, told us last month. Two-time Oscar winner turned star of the FX series "American Horror Story: Asylum," Jessica Lange said "the best writing no is for television," while "film has morphed into something else." Former movie star turned TV actor Alec Baldwin told the Guardian that "cable TV is the bastion of great acting now" and that "the motion-picture business is more and more abandoning serious acting to television."
Plus TV has something else going for it: social media. Twitter and Facebook don't light up about a tentpole blockbuster like "X-Men" the way they do over an episode of "Game of Thrones." Audiences follow and comment on the characters in their favorite weekly series much more than they do about a movie in which they invested just a couple of hours at the local multiplex.
And with mid-budget films that pay well now few and far between, a quality weekly cable series gives actors who aren't in blockbusters the money they can't get from working in indie films. For example, Michael C. Hall made $350,000 per episode of "Dexter." "Mad Men" star Jon Hamm pockets $275,000 per episode, as do "True Blood" sensations Anna Paquin, Stephen Moyer and Alexander Skarsgard. Actors on network shows can make even more.
"The quality of TV has never been better," said Gruber. "And TV offers a steady paycheck, along with terrific writing."