Expert: Jesse James' Alleged Nazi Obsession Could Have Hurt Bullock's Adoption Chances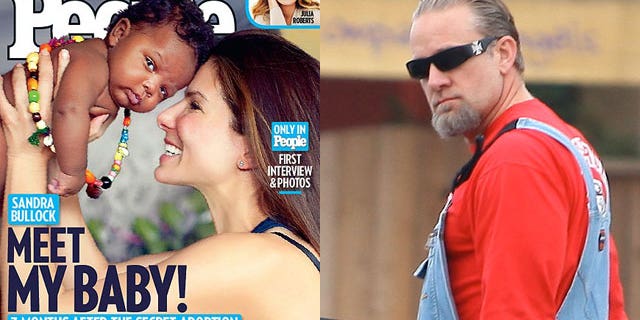 After Sandra Bullock's whirlwind past few weeks that included a Best Actress Oscar, shocking cheating allegations in her marriage and an ensuing divorce,the news that she is now adopting a baby boy is all very uplifting. But Bullock may never have had the chance to be a new mom had her husband's apparent Nazi obsession and infidelity been exposed before baby Louis was brought to them.
"I do (believe it would have hurt their adoption chances). The agency would take it into consideration whether they think they would be an appropriate couple and because of all the publicity, definitely look at them again," Gloria Hochman, Director of Communications at the National Adoption Center told Pop Tarts. "It could work against them. But because Sandra was in pursuit of this adoption for four years, and it didn't happen over night, during this time, the agency performs what they call a 'home study' on the potential adopters. They certainly want to place the child into a nurturing and stable family, a stable family, and the fact that he's had the philandering in his background, and she's talking about divorcing him, it is not a stable family."
According to Hochman, the adoption of a healthy baby in the U.S. can take anywhere from 2-5 years due to the lengthy waiting list. But, the process can take as little as six months through the foster care system as most of these babies suffer numerous health and developmental problems, thus agencies are eager to find them a home.
But seeing as though Bullock and James opted to spend four years going through the in-depth procedure as a married couple, and even started raising young Louis together as a family unit, should he be entitled to visitation even though Bullock intends to finalize the adoption as a single parent?
In an interview with People magazine this week, the West Coast Choppers CEO said that "the love (he) has for Louis cannot be put into words" and that "not having him around to love and to hold has left a huge hole in (his heart)." James, who has three children from previous marriages, also went on to say that he knows he can be the "best father" to his "four" children.
Still, "if he is not legally listed as the parent, he has no rights or responsibilities and doesn't have grounds for any visitation," Los Angeles attorney Gloria Allred said.
Bullock will most likely continue to see James' children on a regular basis, particularly five-year-old daughter Sunny, of whom she and James had sole custody, but it will be her decision as to whether her soon-to-be ex will be allowed to spend time with Louis. However, had the process been finalized while they were still together, Bullock would have had to take the matter to the courts.
"Jesse will not be involved (in Louis's life) unless Sandra wants him to be," Hochman added. "She does not have to grant him visitation unless she chooses to."
And the "secret" adoption has most certainly been one of the best kept secrets in Hollywood.
Unlike most high-profile celebrities such as Angelina Jolie, Madonna, Katherine Heigl and Meg Ryan (who bypassed the extensive waiting lists and adopted children from overseas), Sandra Bullock took the long road in adopting a child in the United States, in a process that takes many years.
"Sandra is a self-admitted planner in the extreme - everything she does personally and professionally is given very careful thought and a close attention to detail, and she proceeds cautiously," explained pop culture/entertainment expert, Scott Huver. "So it's not much of a surprise that instead of going the "quick-fix" route of overseas adoptions that so many celebrities follow when they want a child, Sandra opted to take her time. I'm sure that the sudden endof her relationship was never in Sandra's careful plan, but it certainly speaks to her integrity as a person to carry through with her commitment to be an adoptive parent, whether Jesse is part of the equation or not. She also shows by her example that, while there are countless children around the world who would benefit greatly by being adopted by US parents, there are many children in America who need parents too."