Eva Mendes: My Mom Cringed When She Saw Me Naked!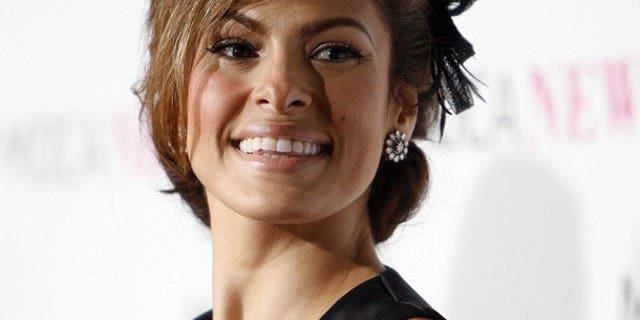 LOS ANGELES – Who could possibly forget Eva Mendes and that insanely hot "I'd Rather Go Naked Then Wear Fur"campaign she did for PETA in 2007? Well, it turns out one person close to her heart needed a little convincing that it was the right thing to do…
"I was completely naked (but covered in the right areas) which made my mother cringe," Mendes told Tarts. "But I was like, 'mom it's for a good cause!"
But here's the good news – the Hollywood hottie is back at it!
Although she didn't bare it all this time around, Mendes still got pretty graphic as she narrated an anti-fur campaign that goes behind-the-scenes to show what happens to animals when they are killed for their fur.
"Its only an issue about looking pretty, how shallow and disgusting. Most of our fur comes from China and they have absolutely no animal rights in China. None. They can get beaten to death, skinned alive, all kind of claw traps and they have anal electrocution and it's not just China," Mendes told Tarts at Hollywood's Roosevelt Hotel. "We actually do it here in the United States too. It's so barbaric that I feel it's a responsibility of mine to spread the word to have people aware."
SLIDESHOW: Click here for photos of the lovely and talented Eva Mendes.
But it's not just the general public Eva is concerned about. The stylish star is also disturbed by the fashion industry's shameless love of fur.
"When I see the new collections on runways I'm shocked every single time that there is fur. We're in 2010, this is ridiculous," Mendes declared. "But I do feel like we can get to a place where we don't kill animals for fur. We used to do a lot of brutal things, we used to chop people's heads off in the middle of a town square and that became socially unacceptable but we evolve so as long as people know these horrific conditions the animals are put through for no reason we're on the right track. But I am shocked that in the fashion industry fur is part of so many collections. I'm proud to be face and body for Calvin Klein, they don't use fur and that was a big part of my decision."
Speaking of decisions, Mendes has no problem playing prostitutes, femme fatales and getting down and dirty in a sex scene for art's sake – but there is just one thing she'll never do for a film.
"I wouldn't wear fur for a film," she vowed. "But everything else is up for discussion."
Oh, maybe that and just don't ask the 35-year-old to star in anything alongside NFL star/reality star/convicted animal abuser Michael Vick.
"He needs help; jail wasn't the right thing for him. He needs help," Mendes added. "I was so mad after the 60 Minutes interview [he gave after his release]. I was at home by myself and I had Tivoed it. I was screaming who can I call? Why is this man f***ing walking?"