Eva Longoria's 'Low Riders' perpetuates Latino stereotypes, group claims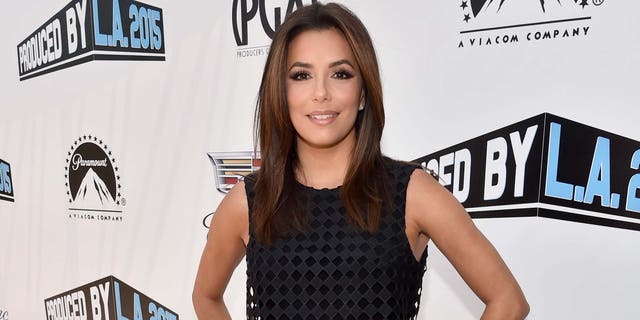 The movie "Low Riders," starring Eva Longoria, has come under fire from some community groups in East Los Angeles who say the flick perpetuates stereotypes regarding the Latino culture.
Community activists in El Sereno, a neighborhood in the east side of Los Angeles, condemned the movie after crew members shot several scenes with Longoria and actor Demian Bichir at a local body shop.
After reading the film's description, representatives of Eastside Cafe, an El Sereno-based community organization, said "Low Riders" stereotyped the violence in the predominantly Latino neighborhood.
"This is disrespectful and exploiting a deep wound that runs in our streets," said a comment posted on the organization's Facebook page.
Numerous protests signs were put up at the organization headquarters.
But not everyone is protesting the movie.
Socorro "Coco" Arredondo, co-owner of 3C's Car Automotive where the film's scenes where shot, said that "until you see the movie, you can't give a full opinion or decide what's going on."
Arredondo, who says his shop was selected for the movie shoot because of its "funky appearance," said during the week of filming, he never saw guns, shootings, or any other violent scenes.
"Everything was really fine during the shoot," Arredondo added. "They [the actors] were just working on cars, like in any other auto repair shop."
But Eastside Cafe wants to see details of the movie's script. Its leaders said they were concerned after reading in the filming notification that the movie would depict brandishing weapons and drive-by shootings.
Arredondo, however, believes that the activists "should have spoken to us before speaking for the whole community."
"I have people that came over and thanked me for what I did, letting them film," he noted.
The community organization declined repeated requests to be interviewed for this story.
According to the description cited by Eastside Cafe, "Low Riders," produced by Universal Studios, is "set in the East Los Angeles world of low-rider cars and street tagging."
On its Facebook page, the organization highlighted that "El Sereno is a community that has a very recent and vivid history with gang violence. We do not appreciate the perpetuation of this stereotype in our community."
It also complained about the crew's presence blocking a mural where the neighborhood holds ceremonies and painting over another mural that commemorates the death of a local youth.
But Arredondo insists that both murals are inside his shop, and that he agreed with the production company to remove them – knowing the artist would put up another one once the shooting of the film was over.
"Artists come here a lot and they always changing their murals. I didn't think it would be a problem," he added.
There were also complaints about the blocking of traffic and parking spaces without giving residents due compensation.
"There are two (possibly three) concerns that community members made us aware of with this shoot," said Philip Sokoloski, vice president of FilmL.A., a not-for-profit organization that coordinates and process permits for on-location production.
Sokoloski said El Sereno leaders were disturbed about the film content, the pre-filming notification, and compensation for filming-related inconvenience.
"FilmL.A. is really in a place to help with only one of them, the notification, by the terms of our contract with the City," said Sokoloski.
According to Sokoloski, El Sereno community leaders have met with film producers and local councilman Jose Huizar to resolve the conflict.
Neither Huizar's office nor Universal Studios responded to several requests by Fox News Latino to comment on the story.
As to the content of the movie, Arredondo dismissed Eastside Café's argument that it will be detrimental to the image of El Sereno or Latinos.
"I don't think Longoria or Bichir are going to ruin their reputation over a movie," he noted.
Longoria, a recognized advocate of Latino rights, is not the main star or producer of the movie "Slow Riders."
Longoria's publicist told NBC News "Eva would never do anything that insulted the Latino community. She fights for the Latino community in her longtime advocacy."
Alex Nogales, president of the Hispanic Media Coalition, which is vigilant about how Hollywood portrays Latino culture, said that because he has not seen the film, he could not comment on whether it is a stereotype of Latino neighborhood violence.
But he cast doubt whether Longoria would star in a movie with that content.
"Eva is a true blue, very serious-minded Latina," Nogales said, "very aware of the damages negative images does to our community."