ESPN's Body Issue features veteran Kirstie Ennis on the cover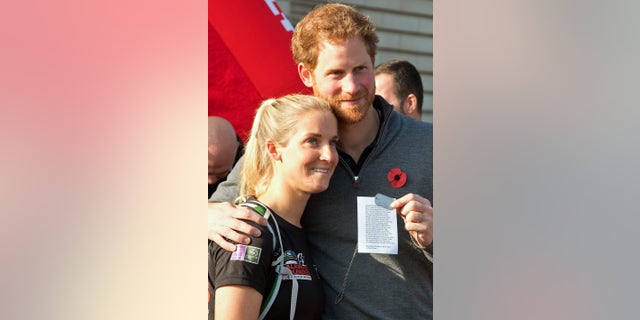 Former Marine Kirstie Ennis is on the cover of ESPN The Magazine's Body Issue, making her the first veteran to receive the high-profiled honor.
Like Ennis, athletes such as Caroline Wozniacki, Antonio Brown, April Ross, Dwyane Wade, and Courtney Conlogue also stripped down for the publication. They were in a separate edition of the Body issue.
The Heroes Project reported Ennis joined the Marine Corps at age 17 in Pensacola, Florida. During the six years she served, she performed as a helicopter door gunner and airframes mechanic on the CH-53 platforms.
CAROLINE WOZNIACKI POSES NUDE FOR ESPN'S BODY ISSUE
In 2012, during her last deployment to Afghanistan, her helicopter crashed while performing combat resupplies to FOB Now Zad. Ennis endured an amputation below the knee, facial trauma, a brain injury, cervical and lumbar spine trauma, as well as bilateral shoulder damage. She medically retired as a Sergeant in 2014. Then in 2015, her leg was amputated again above the knee.
However, the incident hasn't stop Ennis from staying active. ESPN revealed she competed in rowing, swimming, and outdoor cycling at the 2016 Invictus. In March, she climbed Mount Kilimanjaro, making her the first female above-the-knee amputee to summit the mountain. She's currently training to join the 2018 U.S. Paralympic snowboard team and compete at the Winter Paralympics in Pyeongchang next March.
"People think I have this crazy robotic, hydraulic leg — that I must walk faster and this must be better than my old human leg," she explained. "I laugh about that. I stumble over my feet all the time! One of the things I learned [after the amputation] is that it's what behind your rib cage and the six inches between your ears that matters. If you have your head and your heart in the right place and go into things laughing and smiling, it's going to be smooth sailing."
Ennis credited sports, as well as her no-nonsense military training, for helping her build confidence after the crash.
"In the military and in sports, you put your body through hell," she said. "You push the limits and you break any expectation you had of yourself. They break you down and reshape you. I don't think someone who's not an athlete, active duty, or a veteran would ever understand. It's not just a physical process; it's mental and emotional. Whether you're on a team playing a sport or fighting alongside your brothers and sisters in arms, you know damn well the person to your left and to your right has your back no matter what."
Ennis is also grateful that despite the physical setbacks, she made it out alive.
"It's been a long, hard road… but I'm confident and comfortable in the skin I'm in now," she added. "I made it home alive. There are a lot of men and women who didn't. I am living, breathing, walking, all to honor them."