'Eres mi todo': Joe Manganiello proposed to Sofia Vergara in Spanish, he reveals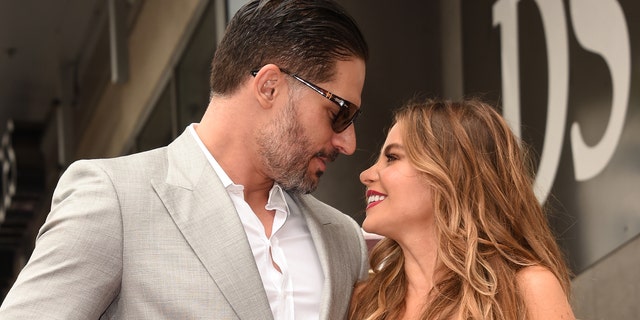 Joe Manganiello used the language of amor when he popped the question to fiancee Sofia Vergara back in December.
During an appearance on "Live! with Kelly and Michael" on Monday, the 38-year-old actor revealed he relied on some Spanish during his proposal over the Christmas holiday.
"I had a big speech in Spanish, and that's what I was nervous about," Manganiello revealed. "The last thing you want to do is like mess up Spanish on the proposal to a Colombian woman."
The "Magic Mike XXL" star said part of his speech included the phrase "Eres mi todo" which means "you are my everything" in English.
"I wasn't nervous that she was gonna say 'no,' I was pretty confident in that," he told the hosts. "You only get one chance to do it, and if you're gonna do it, you gotta do it right, so there's a lot of planning that goes into it."
The proposal on Christmas Day in Hawaii went off without a hitch and the happy couple is planning the highly anticipated nuptials, which they say will be "soon."
Manganiello said the proposal itself was a complete surprise for the "Modern Family" actress and that his "Magic Mike" co-stars helped him prepare.
"I know then I was gonna ask, so all the guys were giving me their ideas of how to do it," he said. "Like Kevin (Nash) gave me the recommendation of who to do to for the ring. I started figuring it all out there while we were shooting."
While everything is going smoothly between the two – they just celebrated their one-year anniversary – the actor said during a press conference in West Hollywood over the weekend that Vergara, 42, once threatened to leave him ... if he insisted in going to the gym while recovering from an injury.
Manganiello explained he had injured himself during a stripping scene for "Magic Mike XXL."
"On take one of my finale routine, which we rehearsed and rehearsed and rehearsed and rehearsed, my dance partner did something unrehearsed, and the result was me hearing a loud rip and a pop," he said. "It was my bicep."
Manganiello powered through the sexy scene, but Vergara, who was on set, was not pleased that he didn't stop.
"We got back to my trailer and, as soon as the door closed, she said, 'If I see you at the gym tomorrow, we're done!'" he joked. "I'm going to leave you! That's it!'"
While Manganiello is promoting his movie, Vergara is in Mexico promoting her buddy-comedy "Hot Pursuit" with Reese Witherspoon. Before heading across the border, the 42-year-old posted a makeup-free picture on Instragram and she looks fantastic.
"A little sun before heading to Mexico lindooooo today !!! ✈️are u packed @reesewitherspoon," she captioned it.
Like us on Facebook
Follow us on Twitter & Instagram