Enrique Iglesias' New Song Drops the F-Bomb 15 Times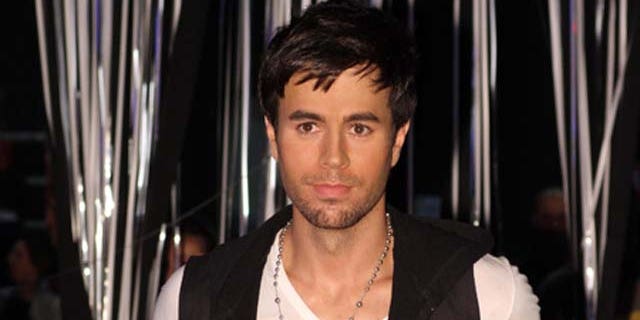 Wait a minute. Hold the phone, hide the children and turn up the volume. Are you sure that is the singer of such classics as "Hero" and "Bailamos"?
For those of you that were never too interested in the musical style of the soft spoken, sensitive and of course sexy Spaniard Enrique Iglesias -- well then you are in for a treat! It seems this son of a Julio has got some serious vulgarity lurking beneath all that breathy romance.
In his latest single "Tonight," Enrique has surprised many of his fans and a good number of haters by pronouncing his sincere intent to "be intimate" with (insert your name here).
That's right, and to add to his street cred, not only does Mr. Iglesias drop an F-bomb approximately 15 times during the song -- but he has brought in the Hip hop star Ludacris to seal the deal.
While the FCC-approved lyrics "I am loving you tonight" are gracing airwaves and were recently performed at the AMA's, it is the raunchy version of "Tonight" that is causing a bit of a stir in the online community.
There have been several complaints about the lack of caballero-ness involved in his recent track, drawing such characterizations on iTunes as "degrading" and "crude".
To be fair, Iglesias does channel his inner-dog in the lyrics of this song. Though if "dogness" ran on a scale of 1 to 10--I would give this perro a non-threatening 4. In fact, I'd throw him a bone for being direct.
Here's the situation
Been to every nation
Nobody's ever made me feel the way that you do
You know my motivation
Given my reputation
Please excuse me I don't mean to be rude, but tonight I am f---king you.
The lyrics border on polite and apart from the jarring finish -- this is standard Enrique.
With the star power Iglesias brings to the table and a very danceable beat accompanying the track, it is conceivable that the clean version would be a hit in it's own right -- but add one of the heaviest cuss words in the English language -- it is basically club ready.
When asked about the lyrics in an interview, Iglesias told MTV News:
"It's a little bit dirtier and raunchier than the things I've done in the past, but I like it. That's what I feel. I felt good about it."
Hmmm....What would Julio do?
If coupled with this summer's hit the Jersey Shore-endorsed "I like It" (featuring fan of rotund rears, Cuban rapero Pitbull), it appears Iglesias is evolving.
He has pursued an edgy and overtly sexual style, one that will appeal to a younger audience. Let's face it: "Bailamos" was more than 10 years ago and, frankly, if anyone saw his performance in the video "Escape"-- where he gets busy in the bathroom with Anna Kournikova -- it should not be surprising there was a fresco hiding inside.
Thankfully, Enrique traditionalists still have singles like "Cuando me enamoro" to remind them of the glory days of "Sí tú te vas" and guide their performer's persona back to center.
It seems Enrique has taken a page out of Beyoncé's book and brought in his alter-ego. So if she is Sasha Fierce, someone please tell me the name of the guy who brings out the the frat boy in Iglesias? I am taking suggestions....