Jussie Smollett pleads not guilty to 16 counts of disorderly conduct stemming from alleged hate crime hoax
"Empire" actor Jussie Smollett pleaded not guilty in a Chicago courtroom Thursday to 16 charges stemming from an alleged hate crime hoax.
Smollett's lawyer, Tina Glandian, entered the plea on Smollett's behalf just hours after Judge Steven Watkins was assigned the case. The next court date was scheduled for April 17.
Smollett was initially charged with one count of lying to the authorities on Feb. 20. Last week, a grand jury indicted Smollett on 16 felony counts of lying to authorities — eight counts for what he told the officer who responded to the report of the Jan. 29 attack in downtown Chicago, and eight counts for what he later told a detective about being the victim of a brutal racist and homophobic beating by two masked men.
JUSSIE SMOLLETT'S ALLEGED CHICAGO ATTACK DETAILS UNFOLD: A TIMELINE OF EVENTS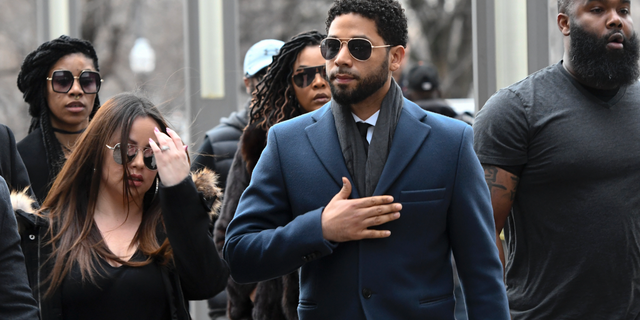 Police say Smollett, who is black and gay, staged the incident because he was unhappy with his salary on the Fox show and wanted to promote his career.
Smollett's attorney, Mark Geragos, called the charges "prosecutorial overkill" in a statement last week.
The 36-year-old actor, who is free on $100,000 bond, has vehemently denied the allegations.
SMOLLETT'S 'EMPIRE' DAD TERRENCE HOWARD BREAKS SILENCE, DOUBLES DOWN ON SUPPORT
A week before the alleged attack, Smollett told authorities he received a threatening letter at work. Chicago police pushed back and accused Smollett of faking the letter as well.
Federal authorities are conducting a separate investigation into that letter.
CLICK HERE FOR THE FOX NEWS APP
Adding another plot twist to the Smollett saga is a new USA Today report that claims that, at the urging of a former senior Obama administration official, Chicago's top prosecutor asked cops to turn over their investigation to the FBI.
Tina Tchen, who worked as former first lady Michelle Obama's chief of staff and is the co-founder of the Times Up Legal Defense Fund, contacted State's Attorney Kim Foxx by text on Feb. 1 and said Smollett's family had "concerns" about the investigation.
At the time, Smollett was still considered by police to be the victim of a hate crime.
"Spoke to the Superintendent Johnson," Foxx emailed Tchen on Feb. 1, referring to Police Superintendent Eddie Johnson. "I convinced him to reach out to FBI to ask that they take over the investigation."
Foxx also reached out to one of Smollett's relatives, whose name was redacted in the copies of the communication released by her office.
"Spoke to the superintendent earlier, he made the ask," Foxx wrote. "Trying to figure out logistics. I'll keep you posted."
The relative responded, "Omg this would be a huge victory."
"I make no guarantees, but I'm trying," Foxx wrote back.
Foxx ultimately recused herself from the investigation before the narrative flipped and police said they believe Smollett was behind the alleged attack himself.
A call to the FBI seeking comment by Fox News was not immediately returned.
Fox News' Sasha Savitsky contributed to this report.
Fox News' Matt Finn contributed to this report.